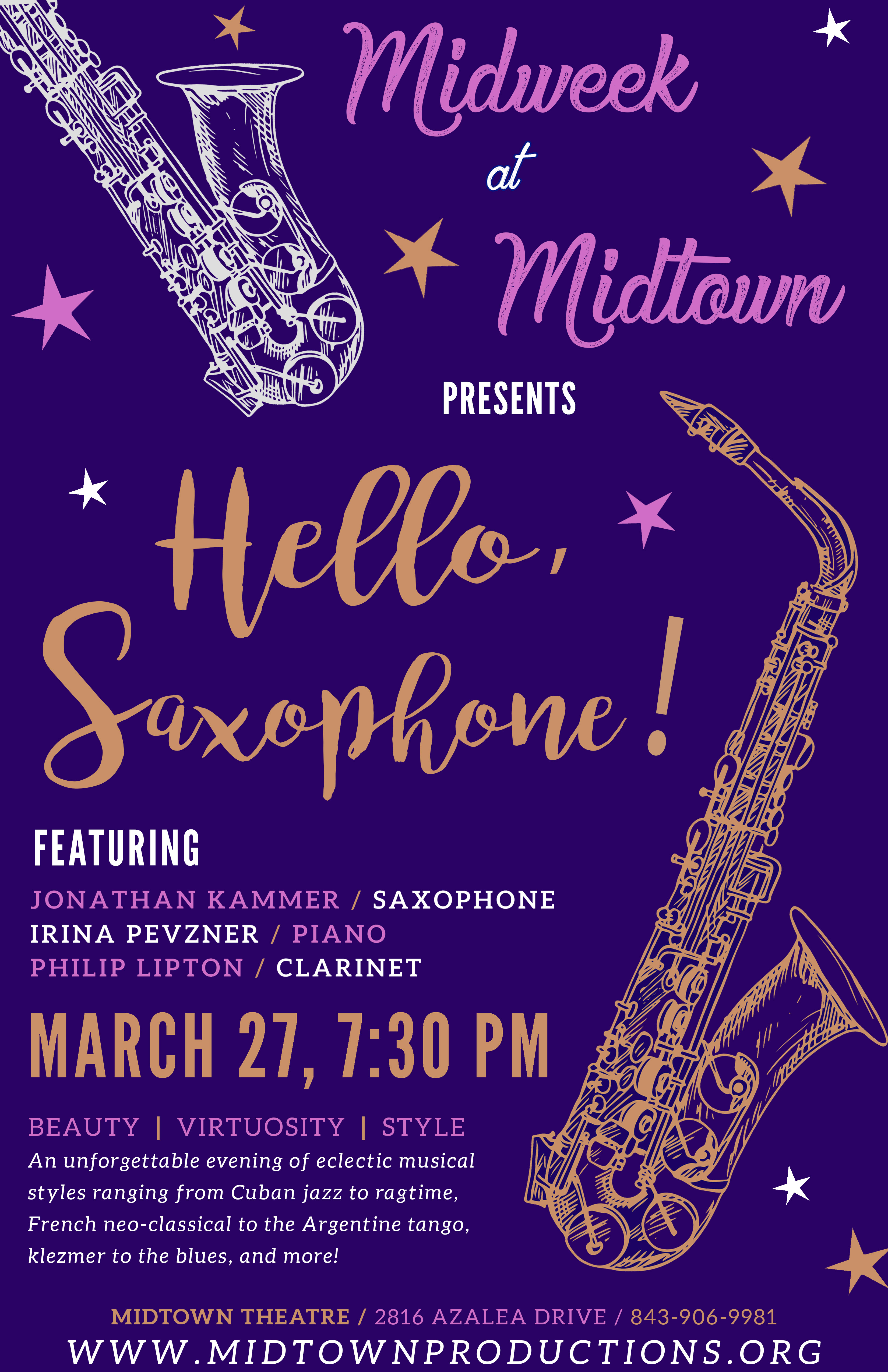 Hello, Saxophone!


With Johnathan Kammer, Philip Lipton, and Irina Pevzner
Wed, Mar 27, 2019 at 7:30pm
FREE Parking
Wheelchair accessible seating
All seats general admission
Drinks and small plates available for purchase
Box Office: 843-906-9981
Beauty. Virtuosity. Style. Charleston's favorite Saxophonist is coming to Midtown!

Jonathan Kammer, gifted pedagogue and saxophonist extraordinaire, has a repertoire that ranges from Bach to ragtime to Cuban jazz. He will be joined on the Midtown stage by Latvian pianist Irina Pevzner, director of the Charleston Academy of Music, and clarinetist Philip Lipton, Principal Clarinet of the North Charleston POPS! Orchestra. Together they will blend classical music with contemporary and pop styles for a one-of-a-kind musical experience!
Drinks and small plates available to be enjoyed during the concert.
We have quite a fun evening planned for all you music fans out there: classical melodies, contemporary favorites, elegant new compositions, and a few cool surprises will have you snapping, tapping, and clapping along to the music! These incredible artists will paint vivid stories in sound as they take us on a journey from polished, post-war French neo-classical to rollicking klezmer, from flashy, funky, energetic contemporary American classical to sultry Argentine tango to the blues. This eclectic concert will showcase the depth of music possible when saxophone, clarinet, and piano join forces to traverse the symphonic spectrum. Don't miss it!
Midtown Productions is partnering with internationally renowned pianist & music director Chee-Hang See on the Midweek at Midtown music series! By pairing our award-winning production team with world-class musicians, we're bringing an exquisite, professional, and truly unique concert series to Charleston in 2019. Revitalize your Wednesdays with wonderful music at Midtown!