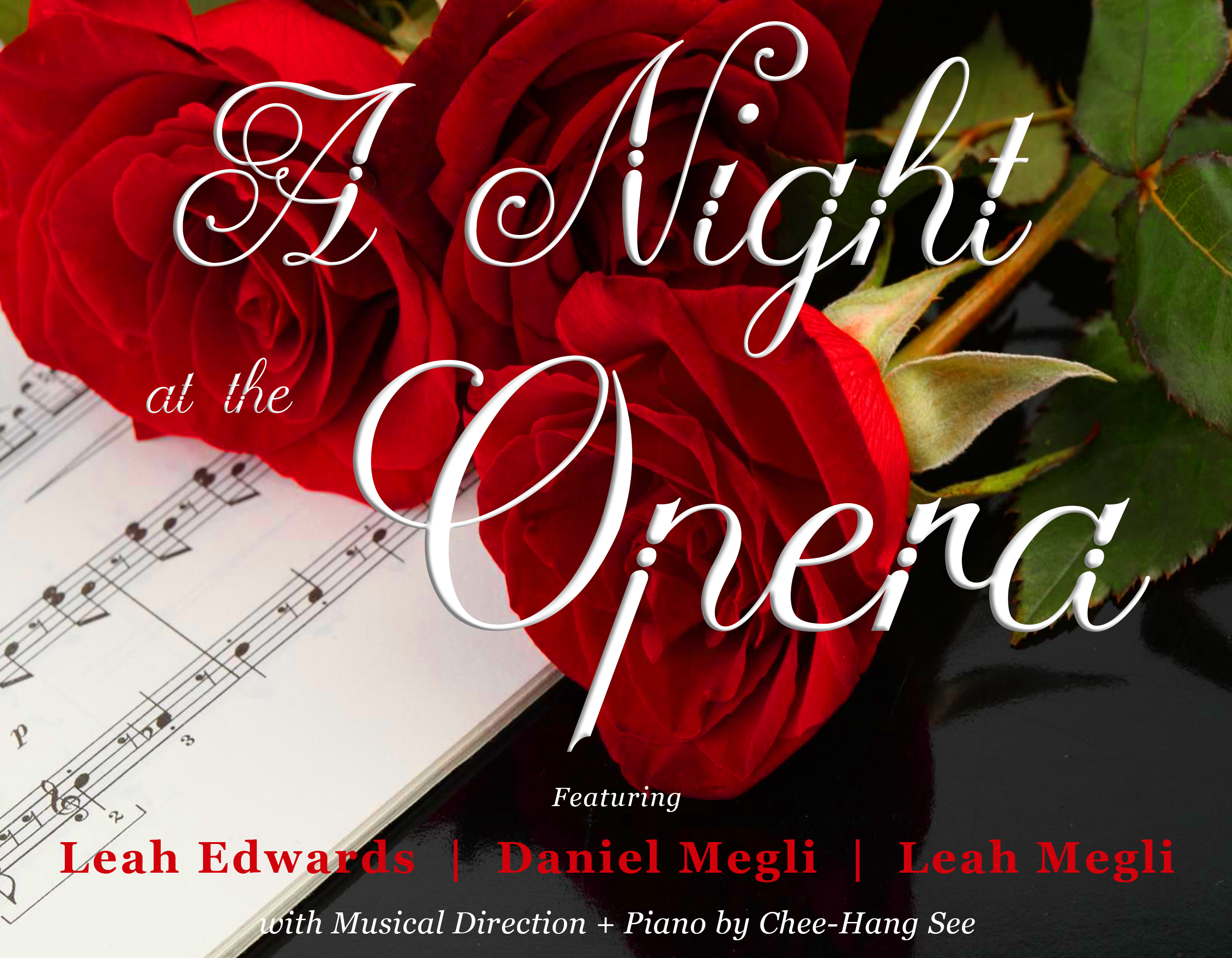 Chee-Hang See presents:
A Night at the Opera


Featuring renowned opera singers Leah Edwards, Leah Megli, and Daniel Megli
Wed, Feb 12 at 7:30pm
FREE Parking
Wheelchair Accessible Seating
All Seats General Admission
Drinks and Small Plates Available for Purchase
Box Office: 843-906-9981
Enjoy some of opera's most romantic duets by Puccini, Rossini, Mozart, and more songs of love.
A Night at the Opera will feature soprano Leah Edwards, mezzo-soprano Leah Megli, baritone Daniel Megli, and guests performing opera selections by Mozart, Puccini, Bizet, and others.
Chee-Hang See will accompany the performers on solos and duets including O mio babbino caro, the Flower Duet from Lakmé, selections from Carmen, La Boheme, and more!
Leah Edwards has established a varied and international musical career as pianist, dancer, and singer and has performed on broadway and locally with the Charleston Symphony and on Midtown's stage last season. Daniel and Leah Megli are longtime performers and educators in Charleston, having taught at Charleston Southern University and the College of Charleston. In addition to a busy performing career all across the U.S., they have sung and acted in many theaters in the area, including Midtown, where they were featured soloists in Godspell, Stephen Sondheim's Company, Cats, and I Love You You're Perfect Now Change. International prize-winning pianist Chee-Hang See joins them on stage for this concert.
Share a bottle of wine and decadent desserts by candlelight for what is sure to be the perfect Valentine's date night!
About Midweek at Midtown:
Midtown Productions is partnering with internationally renowned pianist & music director Chee-Hang See on our Midweek at Midtown music series! By pairing our award-winning production team with world-class musicians, we're bringing an exquisite, professional, and truly unique concert series back to Charleston for a 2nd Season. Revitalize your Wednesdays with wonderful music at Midtown!
Midweek at Midtown's Second Season includes:
Strings by Candlelight — Wednesday, September 11 at 7:30 p.m.
From Baroque to Jazz — Wednesday, November 6 at 7:30 p.m.
A Night at the Opera — Wednesday, February 12 at 7:30 p.m.
Angelic Harp, Ethereal Flute — Wednesday, April 1 at 7:30 p.m.
A Celebration of Beethoven — Wednesday, May 13 at 7:30 p.m.