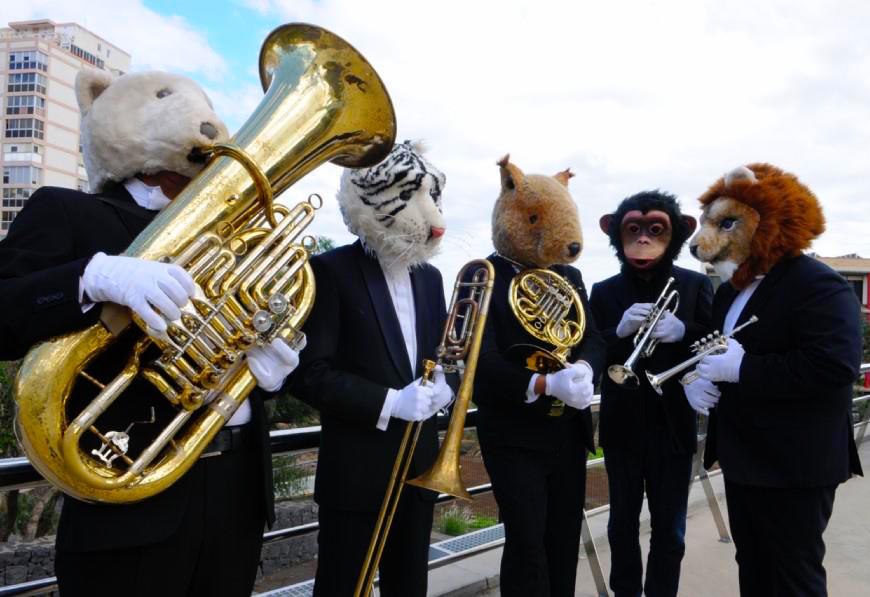 North Charleston Arts Fest presents
Animalia Brass


at the Midtown Theatre
Sat, May 4, 2019 at 3pm
FREE Parking
All seats general admission
Performed at the MIDTOWN THEATRE in the DUVALL Building
I-26 Exit 216-B, turn right on Azalea Drive
Drinks and small plates available for purchase
Use code MIDTOWN for 25% off tickets
Use code MIDTOWN for 25% off tickets!
Founded in Valencia, Spain by Antonio Marti, Principal Trumpet of the Charleston Symphony, Animalia Brass is comprised of master musicians costumed as animals! They entertain, educate, and delight children young and old, masterfully playing music of Mozart, Verdi, and other famous classical music selections. Animalia Brass has performed in Spain, Italy, and Japan. They will be making their American debut with this concert for Arts Fest at Midtown Theatre.
Praised as being "equal parts fun, entertaining, and educational" by foreign critics, Animalia Brass is (voluntarily) audience-interactional, and a "must see" for the whole family!
Antonio Marti, charismatic leader of the group, has served as Principal trumpet with the Charleston Symphony since May 2014. Born in Valencia, Spain, Marti studied at the Tenerife Superior Conservatory with Francisco Ramos & Agustin Ramos. After graduating with Honors in 1998, he studied at the Mannes College of Music in New York City with Vincent Penzarella. After Mr. Marti graduated he was contracted by the Tenerife Symphony orchestra, but soon after won the Principal Trumpet position with The Tokyo Symphony Orchestra (Japan) for six years. Antonio has performed with Tenerife Symphony, Valencia Symphony, Gran Canaria Philharmonic, New York Philharmonic, Tokyo Symphony, Madrid Symphony, RTVE Symphony, New Japan Philharmonic, Munich Kammerata Orchestra, La Coruña Symphony (Spain) and others. In 2009, Mr. Marti released a solo CD, Paths, a recording of solo trumpet music from Spain, America, France and Japan. Marti is a Stomvi artist.