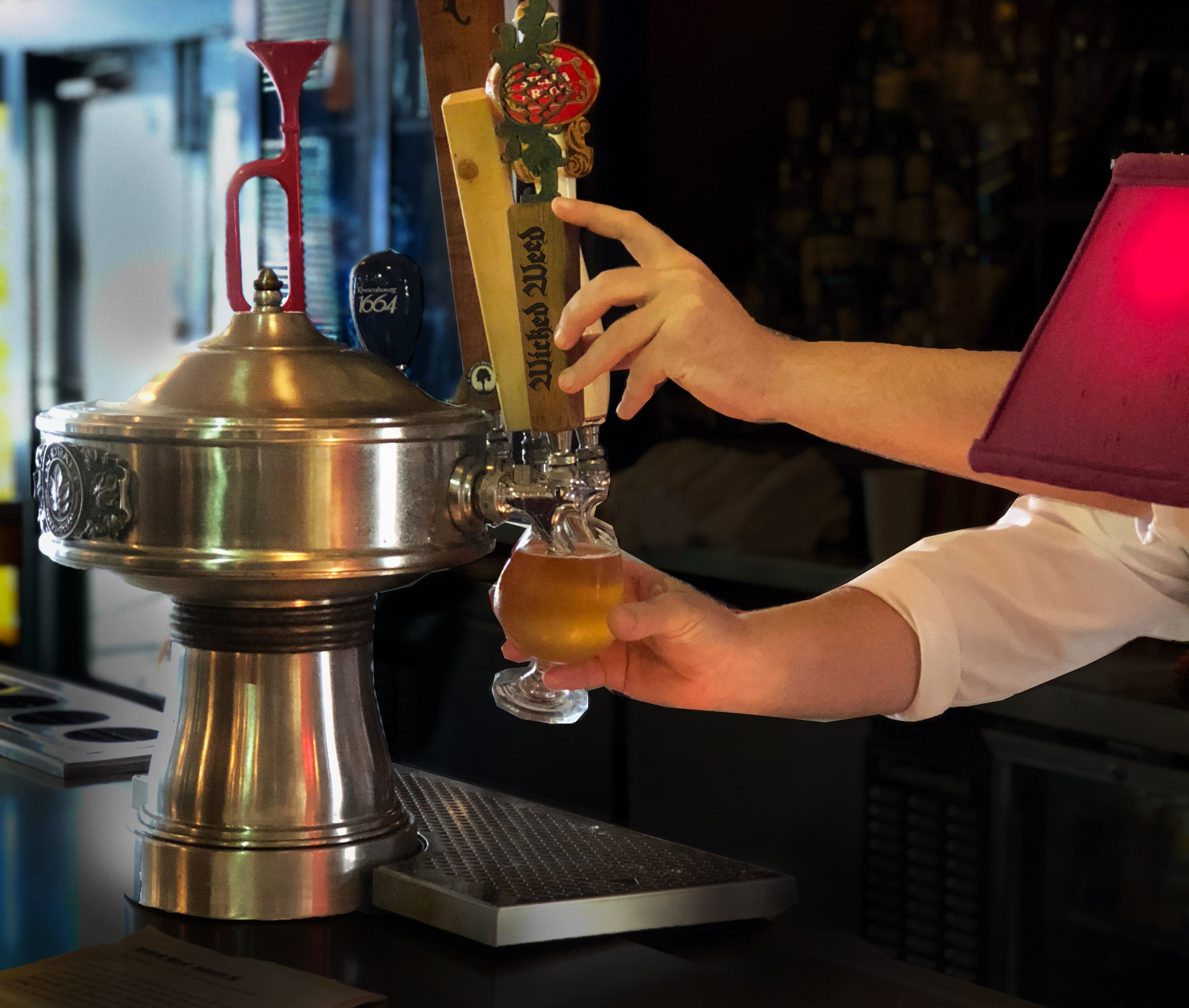 Wicked Weed Beer Dinner with 39 Rue de Jean
Rescheduled to September 27 due to Hurricane Florence!
39 Rue de Jean is excited to announce a four course beer dinner with five unique beer pairings from Wicked Weed Brewery. The event will take place on Thursday, September 27 at 6pm. There are 26 seats available and reservations are required. Each course will feature cuisine from Executive Chef Justin Rambo and desserts from Executive Pastry Chef Richard Farr. Our chefs and a Wicked Weed expert will be onsite to explain each course, educate guests about brewery techniques, and discuss the art of pairing dishes with the perfect beer. Taking place during Charleston Beer Week, this Unofficial Beer Week event is perfect for beer enthusiasts, foodie connoisseurs, and anyone interested in a delicious culinary experience.
Tickets are available now for $75, including tax, gratuity, and a special souvenir beer glass. All attendees must be 21 or older. Tickets are subject to ticket processing fees.
Menu highlights include:
Amouse-Bouche:
Chickpea blini, trout roe, crème fraiche
Wicked Weed Uncle Rick's Pilsner
1st Course:
Rabbit & foie gras mousse, king oyster mushroom
Wicked Weed La Bonté – Pear (Sour)
2nd Course:
Grilled pork belly, fennel sauerkraut, carrot purée
Wicked Weed Pernicious IPA (American IPA)
3rd Course:
Duo of coffee and orange dark chocolate truffles, cacao nibs, Carolina reaper and citrus
Wicked Weed Malice (Farmhouse Ale blended with Golden Sour)
4th Course:
Toasted coconut biscuit filled with cinnamon-vanilla custard, lemon glazed fresh peach
Wicked Weed Xibalba (Pumpkin Ale)
*menu and pricing subject to change*
Please call (843) 722-8881 or email info@39ruedejean.com with any dietary or allergy restrictions.
About 39 Rue de Jean
Located at 39 John Street on historic Hutson Alley in downtown Charleston, 39 Rue de Jean is a refined French Cafe & Bar that offers the best in classic Brasserie Cuisine. Voted Best French Restaurant year after year by the Charleston City Paper, 39 Rue de Jean emanates the characteristics of a late 1800's brasserie, which offered Parisians hearty robust cuisine, handcrafted beers and affordable wines. Today, Brasseries are much more than just breweries. They remain the social hubs of their neighborhood, as 39 Rue de Jean does here in Charleston. Our local guests refer to us as "Rue" and they know just how passionate we are about both our food and our service. We have been industry leaders since 2001, when the 39 Rue de Jean doors initially opened. Fans can learn more at 39ruedejean.com.
About Wicked Weed
Wicked Weed Brewing is based in Asheville, North Carolina. Founded in December 2012, the original brewpub consistently hosts 25+ beers on tap including hop-forward, West Coast-style ales, open fermented Belgians, and barrel-aged beers. With the opening of the second location, The Funkatorium, in October 2013, Wicked Weed is striving to become one of the leading producers of barrel-aged sour and wild beers in the Southeastern United States.