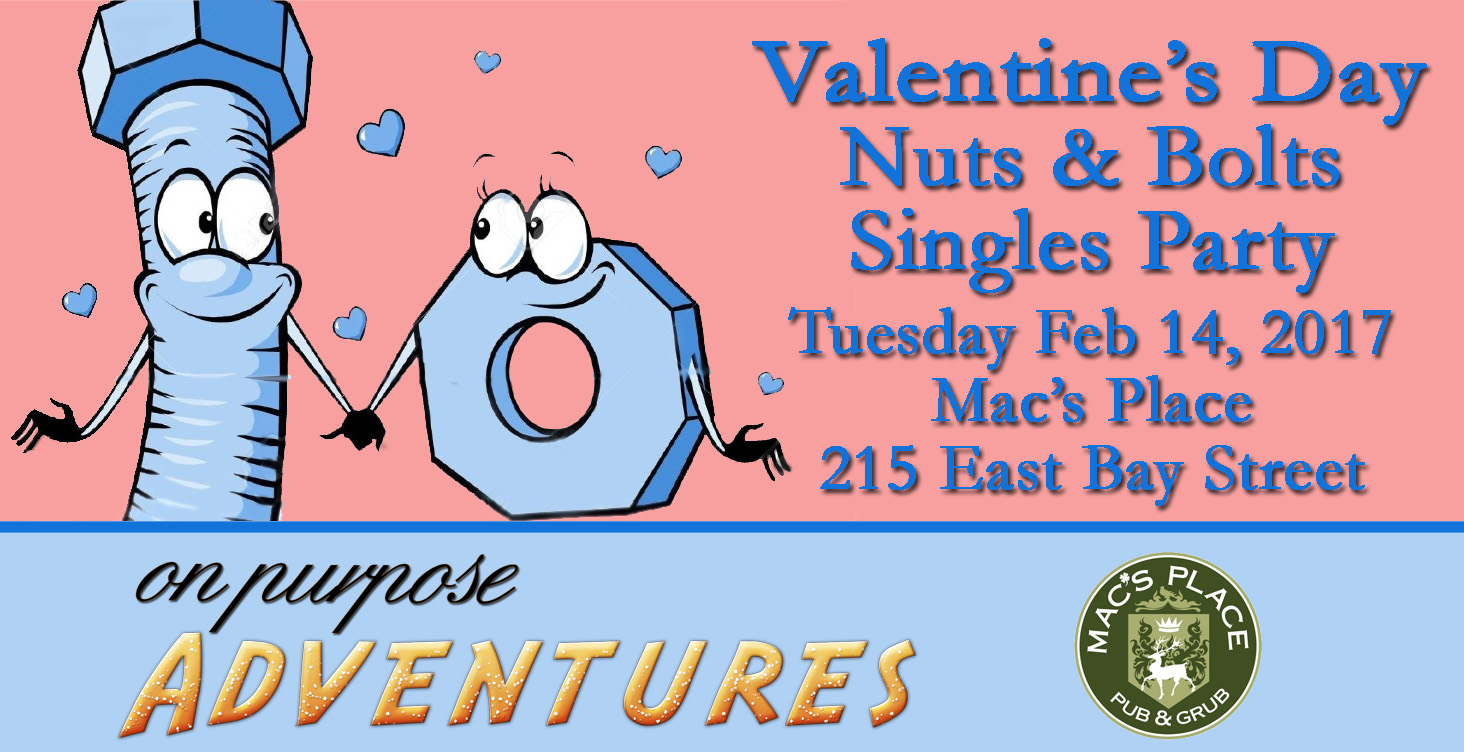 Valentine's Day Nuts & Bolts Singles Party


Meet, Mingle & Win Cool Prizes!
Tue, Feb 14, 2017 from 7:30pm - 10:30pm
Single and dreading Valentine's Day? Well, don't let being single ruin the opportunity of having a blast on Valentine's Day. On Purpose Adventures has partnered with Mac's Place in downtown Charleston for our Valentine's Day Nuts & Bolts Singles Party. Mix, mingle and compete for great prizes while enjoying the music of Gracious Day.
Upon arrival, each person is allowed to choose a nut (ladies) or bolt (men) from a bin. Once you have your hardware, the goal is to find the person(s) that matches up with the hardware you have. If/When you find your 'mate', you are eligible for a free drink. There are also upgrade stations where you will have one minute to solve problems or complete activities (together) to receive an upgraded drink special. You can return to the hardware bins and try again and again throughout the event. And of course - not all hardware will have a match, so you can also swap yours at anytime.
Each time you match or win at the upgrade stations, you will receive a raffle ticket. All tickets will be put into our drawing for raffles throughout the evening and Grand Prize drawings at the end of the event. Prizes include adventure-based dates and other items from On Purpose Adventure, Nature Adventures, Charleston Zipline Adventures and MORE!
Tickets are $20 up until February 13th at 8pm. After that, tickets will be available at the door for $25.
Come meet, mingle and win. This is a limited space event so get your tickets before they are sold out.
For More Information:
On Purpose Adventures
915 Folly Road #90
Charleston, SC 29412
(843) 580-3675
www.onpurposeadventures.com