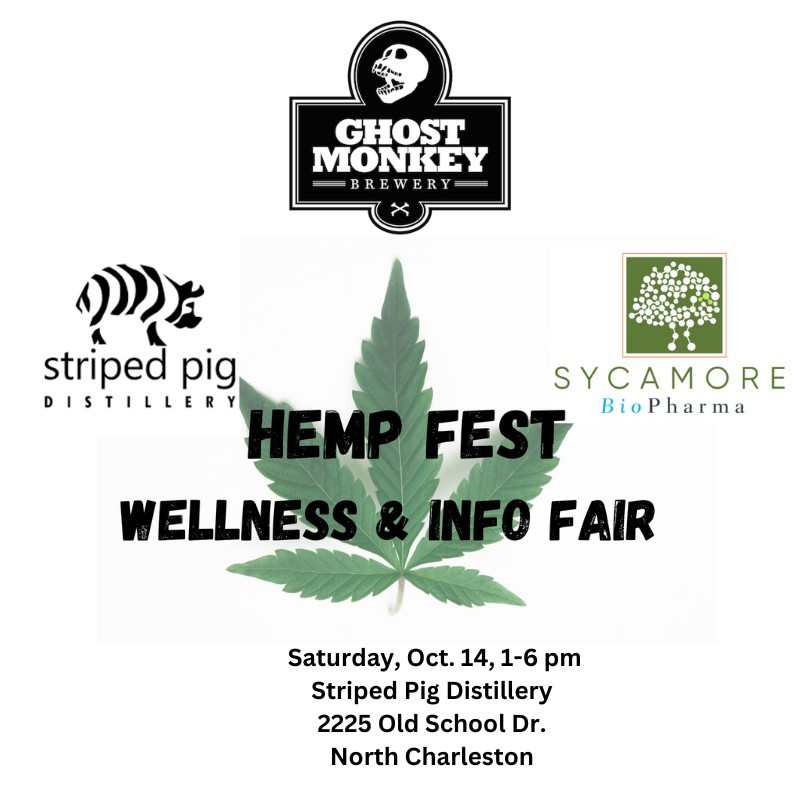 Hempfest: Wellness & Info Fair
Sat, Oct 14 from 1pm - 6pm
Come join us at the Hemp Fest Wellness & Info Fair for a day of education, relaxation, and fun! This exciting event will take place on Saturday, October 14, 2023 starting at 1:00 PM at 2225 Old School Drive #A, North Charleston, SC 29405.
Discover the numerous benefits of hemp and explore a wide range of wellness products and services. From CBD-infused goodies to natural remedies, you'll find everything you need to enhance your well-being. Whether you're a hemp enthusiast or simply curious, this fair is the perfect opportunity to learn, connect, and explore.
Our event will feature informative and engaging presentations from industry experts. Gain valuable insights into the world of hemp, including its uses, potential health benefits, and sustainable practices. Learn about the latest trends, research, and innovations in the wellness industry.
Explore our vendor booths, where you'll find a wide array of products ranging from organic skincare to herbal supplements. Engage with local businesses and experts who are dedicated to promoting a holistic approach to health and well-being.
HempFest will feature a wide range of knowledgeable experts including
Dr. Mark Hamann of Drug Discovery and Biomedical Sciences at the MUSC College of Pharmacy discussing "The Role of Cannabinoids in Everyday Health,"
Dr. Elijah Siegler, a Professor of Religious Studies at the College of Charleston discussing "A Religious History of Psychoactive Drugs,"
Mark Luckie, DC, the owner of West Ashley Wellness and Rehab, addressing "Inflammaging: Unlocking the Secrets to Inflammation and Aging,"
Tyler Stone, President and founding partner of Sycamore BioPharma Inc., will host a Q&A on CBD Wellness Basics,
Antionette Biegaj, DC, the owner of Mt. Pleasant Family Wellness Chiropractic, will address "Stress and Solutions,"
Cynthia Schumpert, the owner of Southeastern Virtual Hormone Clinic, will discuss "Hemp and Hormones: Nurturing Balance and Well-Being," and
Pixie Paula Dezzutti, the CEO of Sycamore BioPharma will provide an overview of "CBD products for women's health."
Vendors include:
Southeastern Virtual Hormone Clinic
Don't miss out on this family-friendly event! Join us at the Hemp Fest Wellness & Info Fair and embark on a journey towards a healthier, more balanced lifestyle. Mark your calendars and bring your friends and family along for a day of exploration, education, and celebration!
S