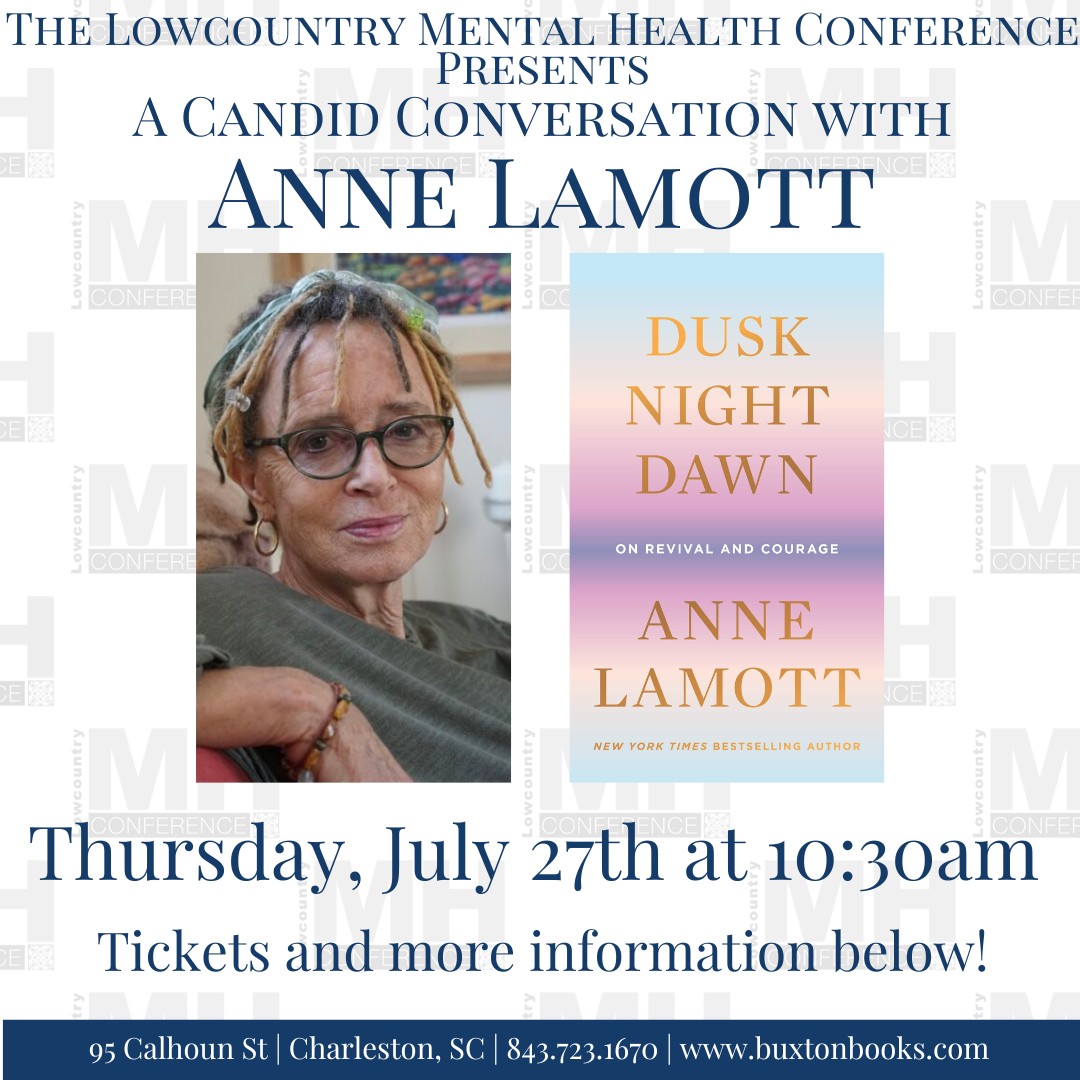 Lowcountry Mental Health Conference Presents
A Candid Conversation with Anne Lamott!
We are very excited to be offering an à la carte ticket option to see bestselling author Anne Lamott on July 27 when she visits Charleston as part of the Lowcountry Mental Health Conference!
Anne Lamott will share her candid thoughts on life's challenges and how we all might come to face them courageously. Anne writes and speaks about subjects that begin with capital letters: Alcoholism, Motherhood, Jesus. But armed with self-effacing humor – she is laugh-out loud funny – and ruthless honesty, Lamott converts her subjects into enchantment. Actually, she writes about what most of us don't like to think about. She wrote her first novel for her father, the writer Kenneth Lamott, when he was diagnosed with brain cancer. She has said that the book was "a present to someone I loved who was going to die." In all her novels, she writes about loss – loss of loved ones and loss of personal control. She doesn't try to sugar-coat the sadness, frustration and disappointment, but tells her stories with honesty, compassion and a pureness of voice. As she says, "I have a lot of hope and a lot of faith and I struggle to communicate that." Anne Lamott does communicate her faith; in her books and in person, she lifts, comforts, and inspires, all the while keeping us laughing.
If you can't make it to the event but would like a signed copy of Dusk, Night Dawn: On Revival and Courage, please click here. For bulk orders of 10 or more copies of Dusk, Night, Dawn: On Revival and Courage (or Anne's backlist titles), please contact becky@buxtonbooks.com.
To find out more about ticket packages for the Lowcountry Mental Health Conference, click here.
About Anne Lamott:
Anne Lamott is the author of the New York Times bestsellers Hallelujah Anyway; Help, Thanks, Wow; Small Victories; Stitches; Some Assembly Required; Grace (Eventually); Plan B; Traveling Mercies; Bird by Bird; and Operating Instructions. She is also the author of seven novels, including Imperfect Birds and Rosie. A past recipient of a Guggenheim Fellowship and an inductee to the California Hall of Fame, she lives in Northern California.
About Lowcountry Mental Health Conference:
Looking for a special professional development experience? Look no further!! On July 26 – 28, 2023, The Lowcountry Mental Health Conference will host its annual event, which promises to be one of the very best mental health conferences of the year! The conference is being offered as both an in-person and virtual event experience!
LMHC prides itself on offering the very best mental health professional speaker line-up at a price that cannot be beat. They work tirelessly to build a schedule that offers mental health professionals advanced and unique educational opportunities from some of the very best clinicians and thought leaders in the field today. They offer a wide variety of keynote presentations and have added pre-conference sessions on July 26th and break-out lunch sessions on July 27th and 28th, which give you even more opportunities to add to the richness of the conference experience!
For more information, click here.