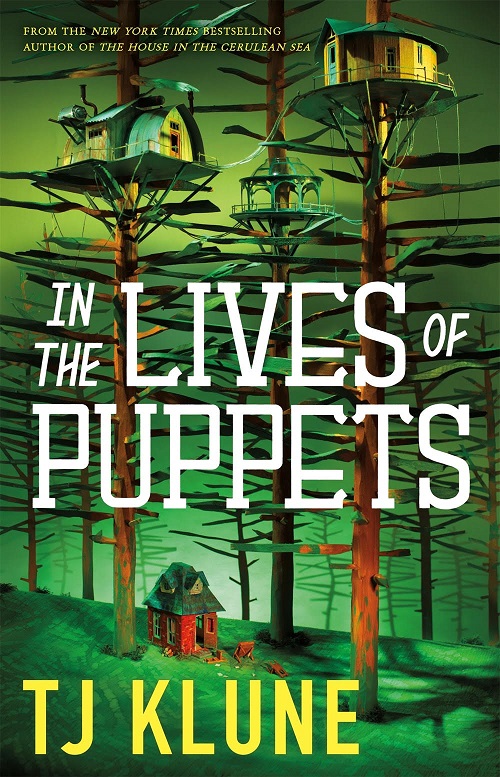 TJ Klune EVENT CANCELLED -- In the Lives of Puppets


Presented by the Inky Phoenix book club

We're very sorry but this event has been cancelled due to flight issues for the author.

Options:

* We can ship your signed copy of In the Lives of Puppets to you. Please let us know your mailing address

* You can pick up your signed copy at the bookstore

* We can refund you.

Please let us know your preference at info@bluebicyclebooks.com, or 843-722-2666. We hope to have signed bookplates from TJ very soon.

thank you!

Jonathan Sanchez

Blue Bicycle Books

Blue Bicycle Books and the Inky Phoenix book club are very excited to welcome TJ Klune, Fri., June 23, 6 pm, in conversation with Kathryn Budig on his New York Times bestselling novel In the Lives of Puppets (Tor, hb., 420 pp.).

Admission includes a signed copy of In the Lives of Puppets.

****

About In the Lives of Puppets, the Inky Phoenix book club pick for May 2023

In a strange little home built into the branches of a grove of trees, live three robots―fatherly inventor android Giovanni Lawson, a pleasantly sadistic nurse machine, and a small vacuum desperate for love and attention. Victor Lawson, a human, lives there too. They're a family, hidden and safe. The day Vic salvages and repairs an unfamiliar android labelled "HAP," he learns of a shared dark past between Hap and Gio–a past spent hunting humans.

Like Swiss Family Robinson meets Wall-E, In the Lives of Puppets is a masterful stand-alone fantasy adventure from beloved author Klune.

"An enchanting tale of Pinocchio in the end times." ―P. Djèlí Clark


***

TJ Klune is the New York Times bestselling, Lambda Literary Award-winning author of The House in the Cerulean Sea, The Extraordinaries, Under the Whispering Door, and more. Being queer himself, Klune believes it's important―now more than ever―to have accurate, positive queer representation in stories.

Kathryn Budig is an internationally celebrated yoga teacher and author known for her accessibility, humor, and ability to empower her students through her message, "aim true." The Kansas native graduated from the University of Virginia with a double degree in English and Drama before moving to Los Angeles, where she trained at Yogaworks under the tutelage of her mentors, Maty Ezraty and Chuck Miller. She lives in Charleston with her wife, Kate Fagan.

Blue Bicycle Books, 420 King St., downtown Charleston. Questions? Please call us at 843.722.2666.