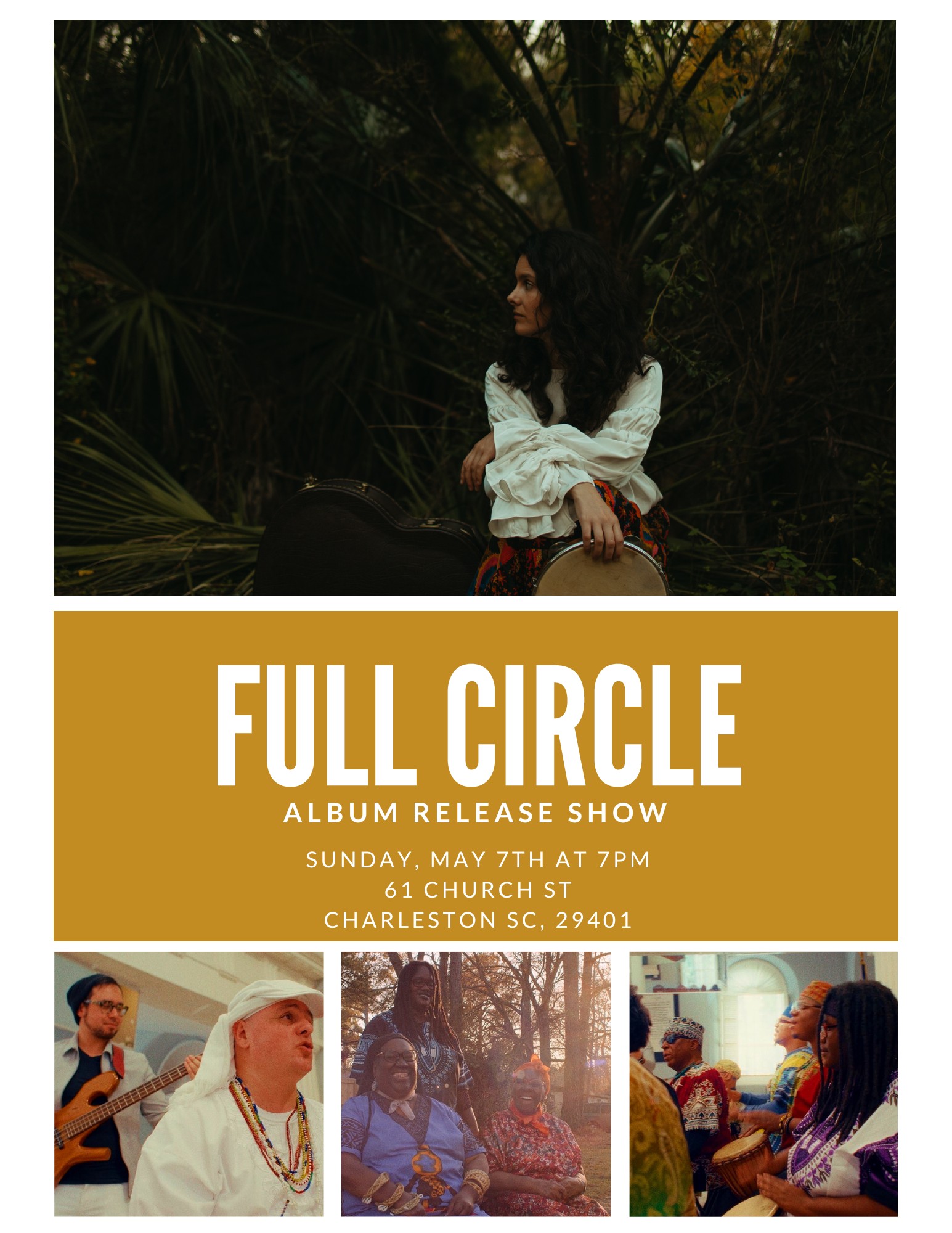 Full Circle Album Release Show
Sun, May 7 from 7pm - 8pm
I'm thrilled to announce my debut album, Full Circle. Seven years in the making, this album has been a labor of love and showcases some of the Holy City's incredible diverse talent and musical traditions.
Join us for a night of live music on Sunday, May 7 at First Baptist Church in downtown Charleston. Doors will open at 6:30PM and the music starts at 7PM. This concert will showcase the entire album and all of the incredible musicians who helped bring it to life!
About Full Circle:
Full Circle explores the musical continuities between the American Southeast, Central America, West Africa, and Northeast Brazil. Appropriately titled, the album details the influential chapters from McNally's travels through Central and South America before returning to Charleston, South Carolina.
McNally's classical guitar is her voice, as her arrangements weave together a musical narrative of rustic southern traditional music and folk songs-beautifully accompanied by call and response choruses, Gullah rhythms and spoken word. Her re-imagined fusion of Afro-Brazilian, Cuban, and southern music traditions create a uniquely quilted folk mosaic of The Americas.
In her words, "Full Circle is my musical memoir. It is a love letter to Charleston, SC and to all the countries that have shaped me into the musician and woman I am today. It is a journey back to the city that raised me and a place of wholeness within myself. It's a collaboration, an effort in preservation, and an ode to the beautiful world we call home."
Featuring Guests:
The Plantation Singer (vocals & percussion)
Gino Castillo (vocals & percussion)
Jonathan Lovett (bass & organ)
Marcus Amaker (spoken word)
Miller Boone(percussion)
Abdiel Iriarte (piano)
Brett Belanger (bass)
Tim Khayat (bass)
Tickets are $20 and doors will open at 6:30PM. We can't wait to celebrate with you!
~Grace