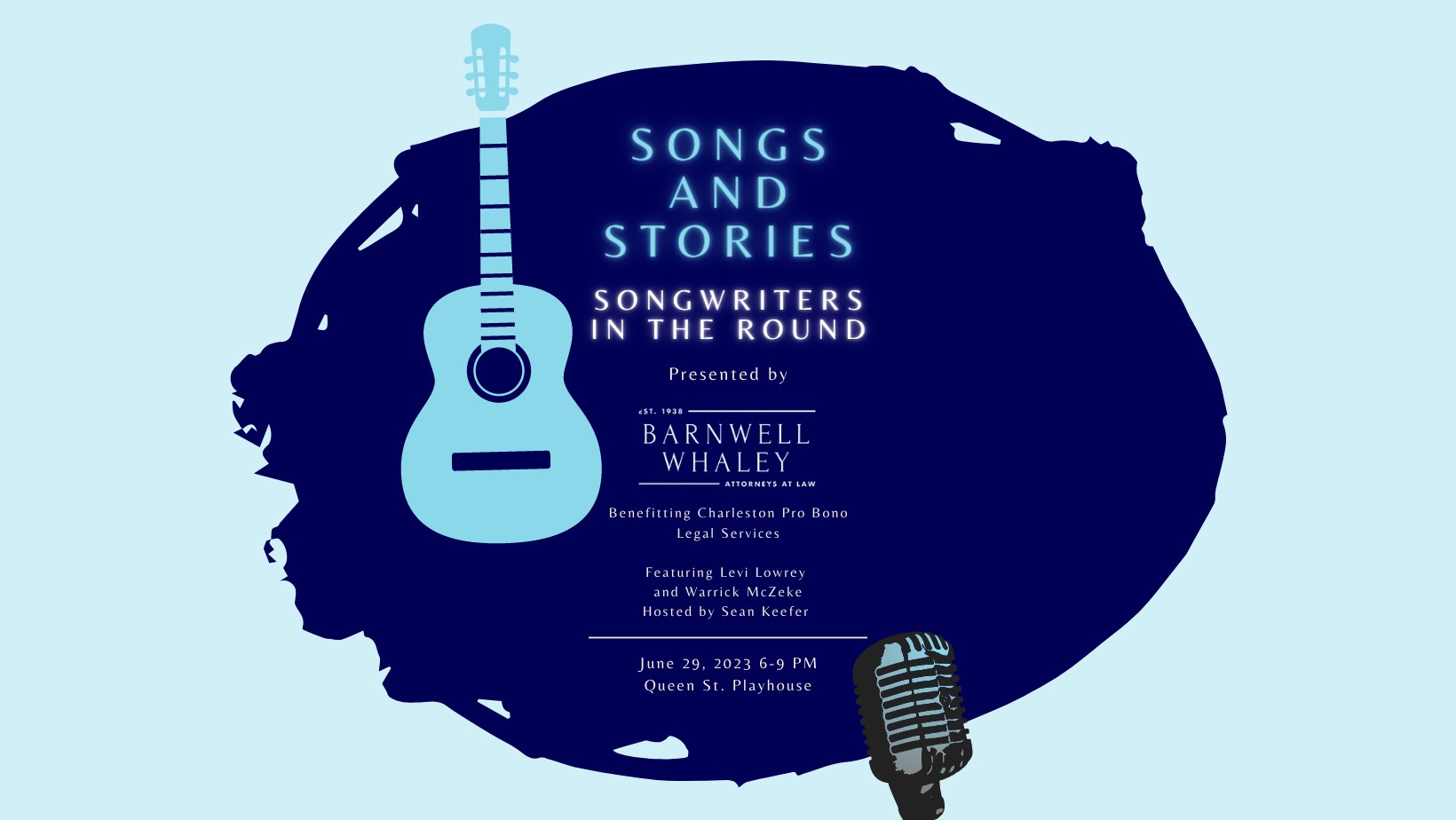 Songs and Stories- Songwriters in the Round
Thu, Jun 29 from 6pm - 9pm
Join us for a night of music and fun presented by Barnwell Whaley, benefiting Charleston Pro Bono Legal Services.
This event features Levi Lowrey and Warrick McZeke, and is hosted by Sean Keefer.
Georgia native Levi Lowrey grew up in Dacula, Georgia where, from a young age, he was surrounded by a community of musicians. Weekends were spent on the family farm where at the "Chicken House" music with family and friends was a constant. From that musical
founda*on and a life of observa*ons, he writes and sings about the side effects of living. Be it his youth, family, faith, guilt, world-weariness, immortality, restlessness, community, or the call of home, Lowrey creates a musical song scape that ushers the listener through a range of emotions.

He's released a number of solo albums and, in addi*on to regular solo appearances, currently performs as part of the group, Yesterday's Wine. He is a co-writer on a number of songs with Zac Brown, among them "Colder Weather." Through the years, Lowery has toured and shared the stage with acts such as Alabama, Chris Knight, Kid Rock, Kris Kristofferson, and Mumford and Sons. He regularly appears at festivals and songwriter events across the country.

Follow him on Instagram @hateswholetrain
Country Singer/Songwriter Warrick McZeke grew up in Loris, South Carolina. A graduate of Clemson University followed by a degree at North Carolina Central University that led to a career as a Speech Pathologist, Warrick always dreamed of singing, but never knew how. That was until one night, June 29, 2017, "God spoke to me saying, 'You should write a Country Music song." And for whatever your spiritual beliefs, it's hard not to see some kind of hand in the seemingly unrelated chain of events, circumstances, and coincidences that led an African-American Speech Pathologist to a career in Country Music.
Days earlier, Warrick enlisted the help of his college roommate, Country Music Superstar Lee Brice, with the proposal to his girlfriend at the 2017 Carolina Country Music Fest. In asking Josie to marry him, she echoed the words, "I Will Absolutely Marry You!" He would turn those words into a song, and "Miss Absolutely" was the song that sparked his transition into Country Music. Since the release, he has performed along the east coast singing songs from his debut EP "C'Mon", and his most recent single "Small Town" can be heard on all streaming platforms.
To learn more and keep up with his musical journey, follow Warrick on social media platforms at @warrickmczeke
Singer/Songwriter/Guitarist Sean Keefer writes music about love, loss, hope, and what lies just
beyond the dawn. "When someone hears one of my songs, I want them to be able to get away for a few minutes,
to get lost in the words and melody, to let my music become their own."

As a child growing up in rural Loris, South Carolina, music was a focus of Sean's daily life,
whether it was listening in the local Baptist church or the FM airwaves. What started as listening to those church hymns soon became singing in the choir. That was followed by a guitar and expanding to playing those same hymns, as well as classic rock, heavy metal, and country. From there, songwriting seemed the next step. "I get asked a lot about my main influence, and it's hard to tie it down to just one. Through the years, I've been exposed to a variety of different forms of music, and I've had the good fortune to play with some incredible musicians. I feel like what I'm playing now is a reflection of all that
has come before."
After years of playing cover songs, in the fall of 2021, working with producer Levi Lowery, Sean recorded his first EP of original music. A Dog Walks into the Sunset is the final product with Americana original and instrumental works and is available on all streaming platforms. His second EP, The Trap Door Sessions, will be released summer of 2023.

To learn more about Sean
Website - ADogNamedBear.com
IG - @A1ADogNamedBear1
FB - @A1ADogNamedBear1