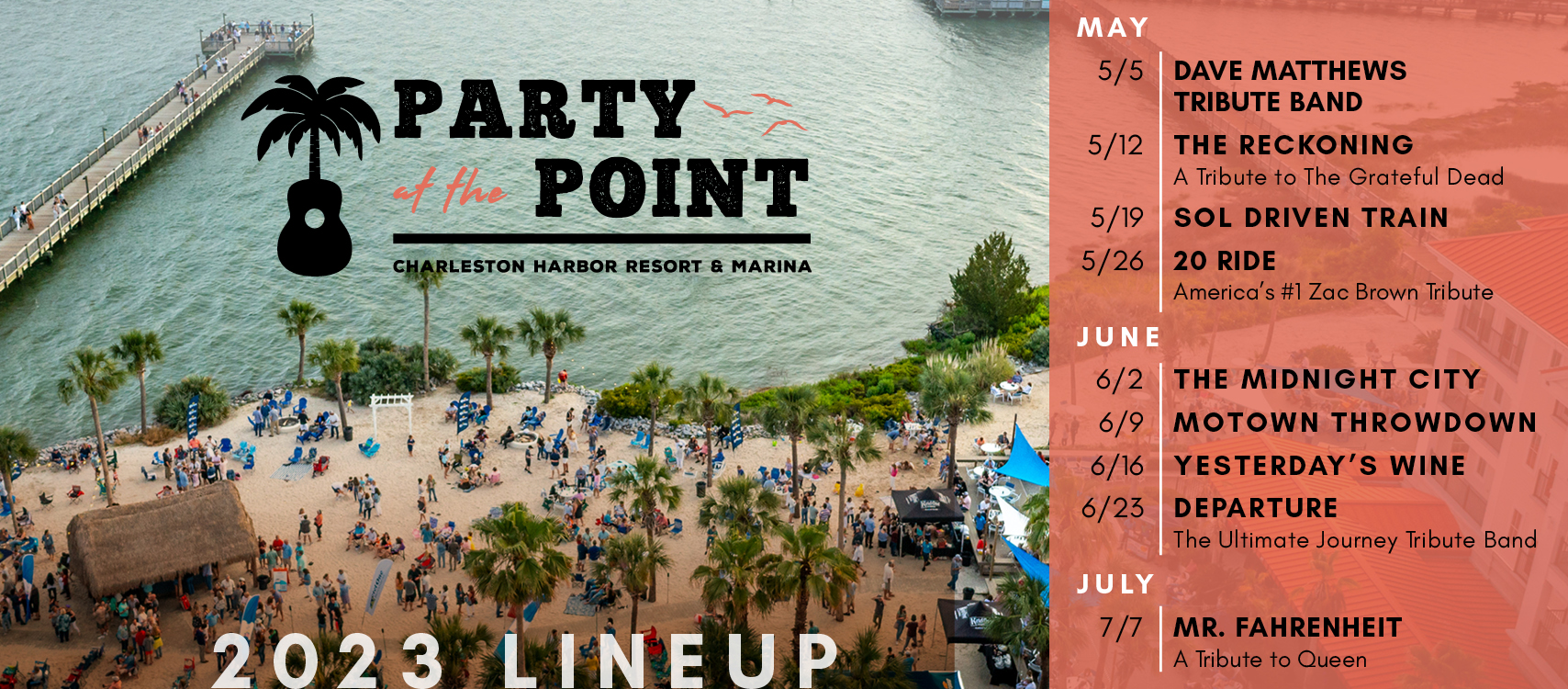 Party at the Point 2023
May 5th - July 7th • 5pm-9pm
Adult Tickets: $10
Ages 12 & Under: Free
Chair and blankets are welcome
No pets or outside food/beverages
All shows are rain or shine, tickets are non-refundable
Charleston's premiere Happy Hour concert series is back for its 21st season that takes place Friday evenings from May 5th - July 7th! Party At The Point is Charleston's best and longest running happy hour concert series in town. Coming into its 21st season we are ready to reopen the doors to Charleston's one & only Beach Party!
This family-friendly event is hosted on our beachfront and features live music and plenty of food and drinks.
Free parking is available along the road leading into the Charleston Harbor Resort and Marina. Uber & Lyft drop off area will be available to all guests to use, located 50 yards from the entrance.
See you on the beach!
Their name says it all: The Dave Matthews Tribute Band. For nearly 20 years, the band has been performing sold out shows around the world; playing over 1,500 dates in 46 states and 8 countries. Many go to their live shows with reservations, high expectations, and the burning question, "Do these guys sound like the real Dave Matthews Band?" Almost always the answer is "Yes!"
Beyond mastering the DMB sound and the relentless touring, what separates The Dave Matthews Tribute Band from other cover bands is their passion, love, and respect for DMB and their music. That is what makes you come out of one of their shows saying, "Yeah, they really do sound like the real Dave Matthews Band.
Based in beautiful Charleston, South Carolina, The Reckoning offers a fresh new approach to the seemingly infinite library of songs and soundscapes that can only be defined as "Grateful Dead." Celebrating the band's entire catalog as it developed and danced through the decades, The Reckoning leaves no leaf unturned, and the music never stops!
Sol Driven Train has been setting it off since the beginning of the millennium with a port town sound shaped by their Charleston home. Brassy and with a rock n roll spirit, their live show is a joyful celebration of musical eclecticism and fun.