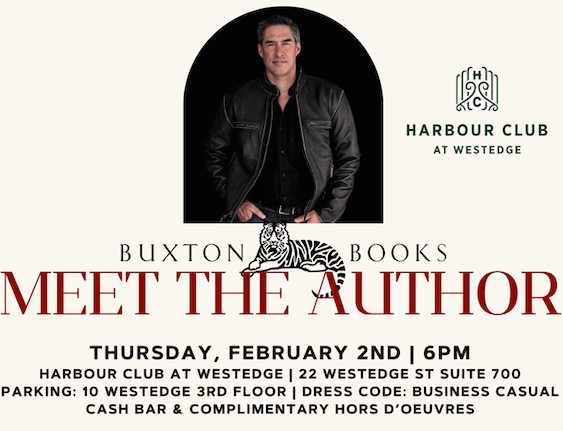 Buxton Books presents
Meet the Author: Brad Taylor
Thursday, February 2nd • 6pm
Please join Buxton Books at The Harbour Club to celebrate New York Times bestselling author Brad Taylor and his new book, The Devil's Ransom, a Pike Logan novel. The evening will include a presentation by Brad, a question & answer portion, and the opportunity to have your book(s) signed and personalized by the author. If you are a Harbour Club member, please contact The Club directly for ticketing.
ABOUT THE DEVIL'S RANSOM: Conducting a routine cover development trip to Tajikistan, Pike and Jennifer learn that Afghanistan has fallen, and a man that has done more for the United States in Afghanistan than anyone else is in danger and on the run. They must extract him before it's too late. During the extraction, Pike collides headlong into a broader mystery: His covert company, along with every other entity in the Taskforce, has been hit with a ransomware attack, and it looks like the Taliban is behind the hack. Given the order to track down the hackers, Pike uncovers a much larger and more dangerous plot than a simple attack on his organization. That hack was just a test-run, and the real one is coming soon, created by a former NSA specialist in the U.S. government. The enemy wants to return to the bipolar world of the Cold War, the turncoat has cloaked his attack behind hackers from Serbia and Russia, and if successful, his target will alter the balance of power on the global stage. So far, the specialist has remained one step ahead of the Taskforce, but he has just made one massive mistake: hitting Pike Logan.
ABOUT BRAD TAYLOR: Brad Taylor, Lieutenant Colonel (Ret.), is a 21-year veteran of the U.S. Army Infantry and Special Forces, including eight years with the 1st Special Forces Operational Detachment – Delta, popularly known as Delta Force. Taylor retired in 2010 after serving more than two decades and participating in Operation Enduring Freedom and Operation Iraqi Freedom, as well as classified operations around the globe. His final military post was as assistant professor of military science at The Citadel. Brad has written sixteen New York Times bestsellers and is a security consultant on asymmetric threats for various agencies. He lives in Charleston, SC with his wife and two daughters.
ABOUT BUXTON BOOKS: Opened in 2016, Buxton Books is an independent bookstore located on King Street, the main thoroughfare in downtown Charleston, South Carolina. The bookstore specializes in ticketed, dynamic, book-included events both in the bookstore and at different venues in the city and surrounding areas, and also hosts multi-day author weekends with events ranging from bespoke walking tours to culinary events. With a knowledgeable staff, highly curated book selection, and robust event schedule, Buxton Books value and uphold the traditions of a neighborhood bookstore while also welcoming the visiting reading community.
ABOUT THE HARBOUR CLUB: The original Harbour Club opened in the summer of 1994 at 35 Prioleau Street in the heart of historic Charleston. After 25 wonderful years, those doors were closed and our new Club was opened: Harbour Club at WestEdge, located on the 7th floor of the prestigious 22 WestEdge building. Featuring traditional southern hospitality with a modern Lowcountry influence, the Harbour Club at WestEdge is a private business and social Club founded to serve as a home away from home for the greater Charleston leadership community. It continues to represent all backgrounds and cultures that make up the rich, diverse tapestry that defines Charleston. The Harbour Club at WestEdge's brand new 18,000 s/f location offers amazing amenities to those seeking a professional setting to conduct business and a myriad of inviting spaces to socialize. Representatives will be on-site at this event to share more information about The Club and membership opportunities.