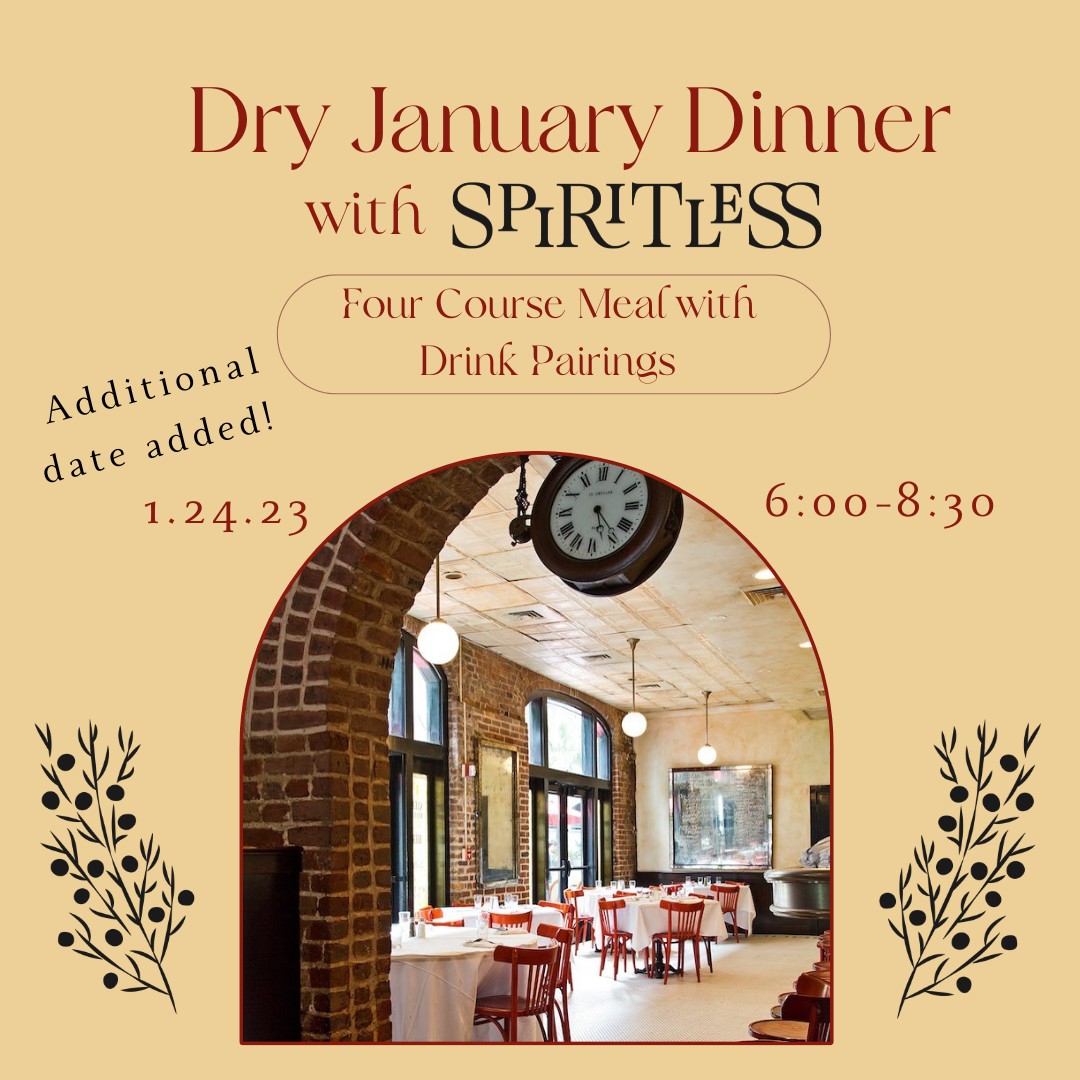 Dry January Dinner with 39 Rue de Jean and Spiritless
39 Rue de Jean, a Holy City Hospitality Restaurant, is excited to host a 4-course dinner on January 24th, partnering with Spiritless Cocktails. January is the perfect month for a reset for those who choose to cut back on alcohol consumption after holiday indulgences. This dinner will feature 4 courses, paired with 5 alcohol-free cocktails from Spiritless.
---
***We have added a 2nd date, as this event sold out! Get your tickets now as space is limited!***
---
39 Rue de Jean's Executive Chef, Marcus Shell, has crafted a menu designed to show off seasonal ingredients and his exceptional culinary skills. Our Bar Manager Michael Moore will be creating Spiritless cocktails to pair with each course, as well as a welcome drink.
Representatives from Spiritless will be hosting this dinner alongside the Rue de Jean team, and will be there to answer any questions, and offer suggestions to those hoping to maintain or experiment with a "dry" or "damp" lifestyle.
Dinner begins at 6pm, with the first course served at 6:30pm.
Tickets are available now for $60, including, tax, gratuity, and special souvenirs from Spiritless. All attendees must be 21 or older. Tickets are subject to ticket processing fees.
Menu highlights include:
FIRST COURSE – Seared Scallop with Tomato Bacon Jam and 5 Spiced Carrot Ribbons
SECOND COURSE – Chorizo and Granny Smith Stuffed Mushroom with Garlic Aioli and Balsamic
THIRD COURSE – Roasted Sweet Pepper Pesto Pork Tenderloin with Coconut Rice and Brown Butter Baby Carrots
DESSERT – Pumpkin Spiced Cake, Candied Pecans, Whipped Cream
Menu and pricing are subject to change. Please call (843) 722-8881 or email info@39ruedejean.com with any dietary or allergy restrictions. For any additional inquiries, please reach out to marketing@holycityhospitality.com.
About 39 Rue de Jean
Located at 39 John Street on historic Hutson Alley in downtown Charleston, 39 Rue de Jean is a refined French Cafe & Bar that offers the best in classic Brasserie Cuisine. Voted Best French Restaurant year after year by the Charleston City Paper, 39 Rue de Jean emanates the characteristics of a late 1800's brasserie, which offered Parisians hearty robust cuisine, handcrafted beers and affordable wines. Today, Brasseries are much more than just breweries. They remain the social hubs of their neighborhood, as 39 Rue de Jean does here in Charleston. Our local guests refer to us as "Rue" and they know just how passionate we are about both our food and our service. We have been industry leaders since 2001, when the 39 Rue de Jean doors initially opened. Fans can learn more at 39ruedejean.com.
About Holy City Hospitality
Founded in 2001 by Michael Bennett, Holy City Hospitality is one of Charleston's largest locally-owned hospitality companies dedicated to inspiring memorable experiences through inventive ingredients and gracious service. Holy City Hospitality consists of 39 Rue de Jean, Coast Bar and Grill, Vincent Chicco's, and Victor's Seafood & Steak, all located on Hutson Alley. The alley is a quaint hidden gem in the heart of Charleston's peninsula, with Virginia's on King just around the corner. Additional establishments include Good Food Catering and the Historic Rice Mill, a waterfront event space in downtown Charleston. For more information, call or visit www.holycityhospitality.com.
About Spiritless
Spiritless was founded by three women juggling the long hours of entrepreneurism, the skepticism of a male-dominated industry, the expectations of motherhood, the fulfillment of mentoring, the intimacy of partnership and the desire to carve out just five minutes of zen. They believe that Less is Yes: Spiritless is the solution to saying yes to more — and more often. Spiritless is not like other non-alcoholic spirits. Not artificial, it's the real thing with a proprietary distillation process. You'll find the core flavor building blocks of bourbon - oak, smoke, vanilla, caramel. All Holy City Hospitality restaurants proudly feature Spiritless products on our menus. For more information, visit www.Spiritless.com