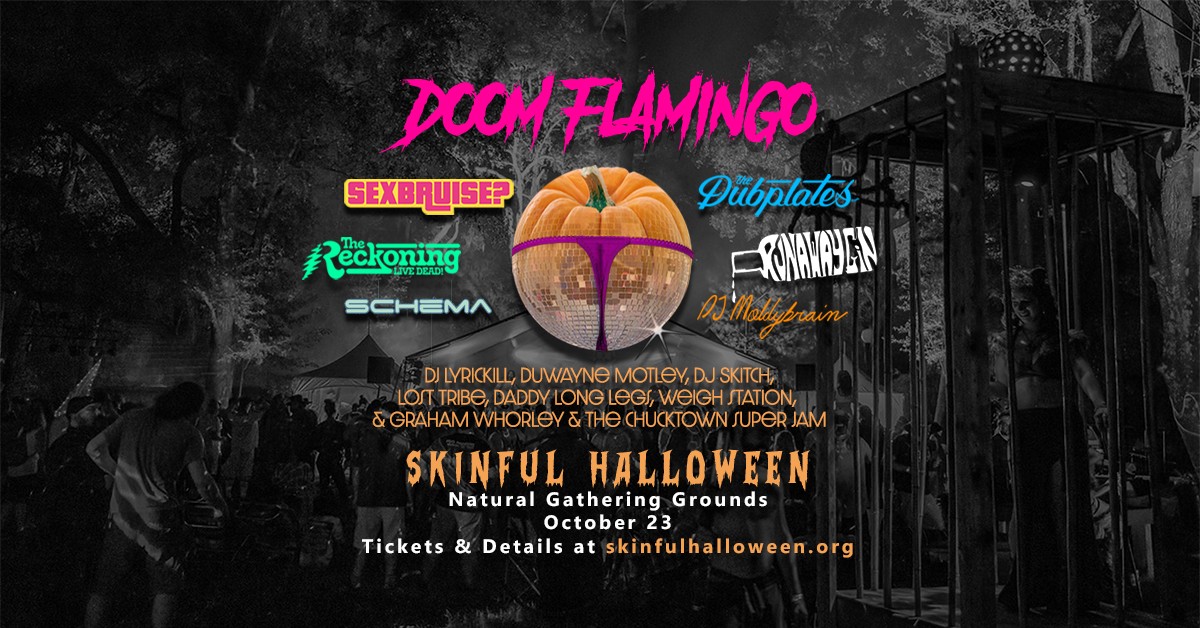 Skinful Society Presents
Skinful Halloween- Postponed


Private Event for Members of Skinful Society

The Skinful Society is for good-hearted people who don't hate, that never discriminate, and love to let their freak flag fly. Become a member of the Skinful Society today to attend the private event described below.

Skinful Halloween is the ultimate Halloween camp out concert experience at the Natural Gathering Grounds on 10/23/2021.
21 and Up
Costumes are Mandatory
3 Stages with musical acts, artists, dancers, out of this world visuals, lighting and sound.
Live Performances from Doom Flamingo, Sexbruise?, The Dubplates, The Reckoning, DJ Moldybrain, Runaway Bogan Gin, Schema, DJ Lyrickill, Duwayne Motley, DJ Skitch, Lost Tribe, Daddy Long Legs, Sleepy Tyrants, Mighty Good Time, Weigh Station, Graham Whorley Charleston Super Jam and More TBA.
Skinful Halloween Tickets and Camping passes are included in your membership fee.
Guests can arrive early and set-up Camp on Friday 10/22/2021 starting at 2pm-7pm. Gate will open at Noon on Saturday 10/23/2021. Music will Start at 4pm and go all night. This is a camp out and no alcohol will be sold on site. You are allowed to bring your own food, drinks and camping related items.
You must buy a Skinful Membership in order to attend. This is a private event for Skinful Members. For more information please visit:
Venue: Natural Gathering Grounds
Natural Gathering Grounds is a natural environment for all gatherings
Our mission is to inspire wonder and encourage discovery while making meaningful connections in a natural environment.
We are a communal habitat promoting natural health, simple living, creative expression, and sustainable practices with a focus on bringing together local and visiting like-minded folks to explore, learn & relax in nature! Come experience freedom, tranquility, and exploration here in the beautiful Lowcountry!
Come gather on our 54 acres in beautiful Ridgeville, SC. Our rural oasis is only 20 minutes from Summerville and a 35 mile scenic drive from the city of Charleston.

Music Lineup
Doom Flamingo
"We just want to make people dance. It's a ritual."
Doom Flamingo (L to R)
Thomas Kenney, Ross Bogan, Kanika Moore, Mike Quinn, Ryan Stasik, Stuart White
Doom Flamingo is a six-headed synthwave beast with a Jekyll and Hyde element to the songwriting. Top Gun guitar riffs and Miami Beach poolside lounge-vibes, are all at once contrasted with eerie darksynth soundscapes reminiscent of old John Carpenter films.
Doom Flamingo came together organically through friendships and past collaborations in their hometown of Charleston, South Carolina. Dynamic vocalist, Kanika Moore, sets the project into hyperdrive alongside bassist Ryan Stasik, of the prolific rock band Umphrey's McGee. The sextet features a cast of powerhouse musicians including keyboardist Ross Bogan, Thomas Kenney on guitar, Mike Quinn on sax and drummer Stuart White.

Sexbruise?
Sexbruise? is a satirical pop band from Charleston, SC that combines elements of improvisation, electronic music, poppy hooks, and audience participation to create an
unforgettable live experience. Despite their extreme wealth and lavish lifestyle, Sexbruise? grew up on a dirt road right down the street from Pappy's Hardware Shop, and subsequently is very in tune with the struggles and plight of middle america.
Sexbruise? Has been featured at Rooster Walk Music and Arts Festival and will perform at FloydFest 2021 and other pending festies, assuming this damn virus doesn't fuck us at the last second again.
Sexbruise?'s shows can be described as a giant party. The tunes are memorable, the stage presence exciting, and the antics unpredictable. And there are snacks. Thrown from the stage. The band has prepared pancakes and pizza on stage, brought out dancers in animal costumes, hired fake demonstrators to protest their shows, and many more other cool things.
The Dubplates
BUY OR STREAM NOW – BILLBOARD NO. 1 REGGAE ALBUM – BOX FULL OF STEEL – KING YELLOWMAN X JUNIOR REID X MIX MASTER MIKE X FUTURE FAMBO X ELEPHANT MAN & ZUMJAY
THE DUBPLATES NEW RECORD. THESE ARE MUST HAVE ITEMS." -MIX MASTER MIKE
There's a reason legends like Mix Master Mike of the Beastie Boys and Method Man of Wu-Tang Clan have been photographed wearing Dubplates gear.
It's the same reason Papa Robbie was performing with King Yellowman in the 90s and was named by Shabba Ranks. It's the same reason you could find Daddy Brady voicing tunes with Jigsy King in Jamaica in 2004. And it's the same reason Big Hair and Daddy Brady opened for Damian Marley in 2005 on the Welcome to Jamrock tour. It's because The Dubplates family is humble and legit.
Since youth their favorite tunes were roads to find artist's influences. The Clash lead to Lee Perry the same way RUN DMC leads to King Yellowman.
That's why this band was born from a Dancehall Reggae Soundsystem. What does that mean? It means they ain't scared of a microphone. It means that every Dubplates show is a dance. Most importantly it means they present their songs the way they would present records on turntables. With the same reverence a priest holds the Bible.
They do it with a deep love and respect for the people and places that inspired each song. They bust out blues, afrobeat, hip hop, rocksteady, dub, dancehall and ska.
No matter style they touch, it is recorded and performed with relentless attention to the traditions and innovations of the originators.
---
COVID-19 Protocol:
Masks are recommended for all guests at the Skinful Halloween Campout. No food or drink will be sold at the events to avoid crowding and contact. Attendees are permitted to bring their own food, drink, beer, wine, coolers, blankets, tents and chairs. Natural Gathering Grounds is a perfect outdoor location to breathe fresh air with plenty of open space to party while social distancing.
By attending this event, you acknowledge the risk of becoming exposed to or infected by COVID-19, as well as any risk inherent with being outdoors in the woods. You voluntarily agree to assume all the foregoing risks and accept sole responsibility for any exposure.
GENERAL PRECAUTIONS
Please stay home if you are at high risk, sick, or if you have knowingly been exposed to Covid-19 in the last 14 days.

Wash your hands often and use sanitizer.

No need to shake hands, elbow bumps are legit.

Skinful Halloween security staff reserve the right to remove anyone from the property who is not abiding by the guidelines as outlined here.

We ask that all guests respect the social distance space of others and maintain a 6-foot distance from people who are not in your group.

Masks are recommended in common areas.
EVENT EXPERIENCE
Event guests are encouraged to bring chairs and blankets to make their space more comfortable.

Guests are allowed to bring coolers, tents and outside food or drink.

This event is 21+ so please leave the little ones at home, including pets.

Restrooms, hand washing stations, and hand sanitizer will be available.
INCREASED SANITATION
Per the CDC guidelines, staff will sanitize common surfaces such as picnic tables and stages after each customer use.

Natural Gathering Grounds asks that all customers sanitize their hands with sanitizer provided before entering the property.

Hand sanitizing stations have been added throughout the property for public and employee use.

Additional restrooms with sanitation have been added for all events.
STAFFING POLICIES
All staff are required to wear a protective mask when social distancing is not an option.

Staff continues to be trained and educated on best practices as provided by the CDC, as well as state and local agencies.
Suggested items to bring:
Costumes, coolers, food and drinks, water, chairs, blankets, tablecloth, tent, lights, closed-toed shoes, insect repellent, your freaky flag. Masks required. Clothing optional. ;)