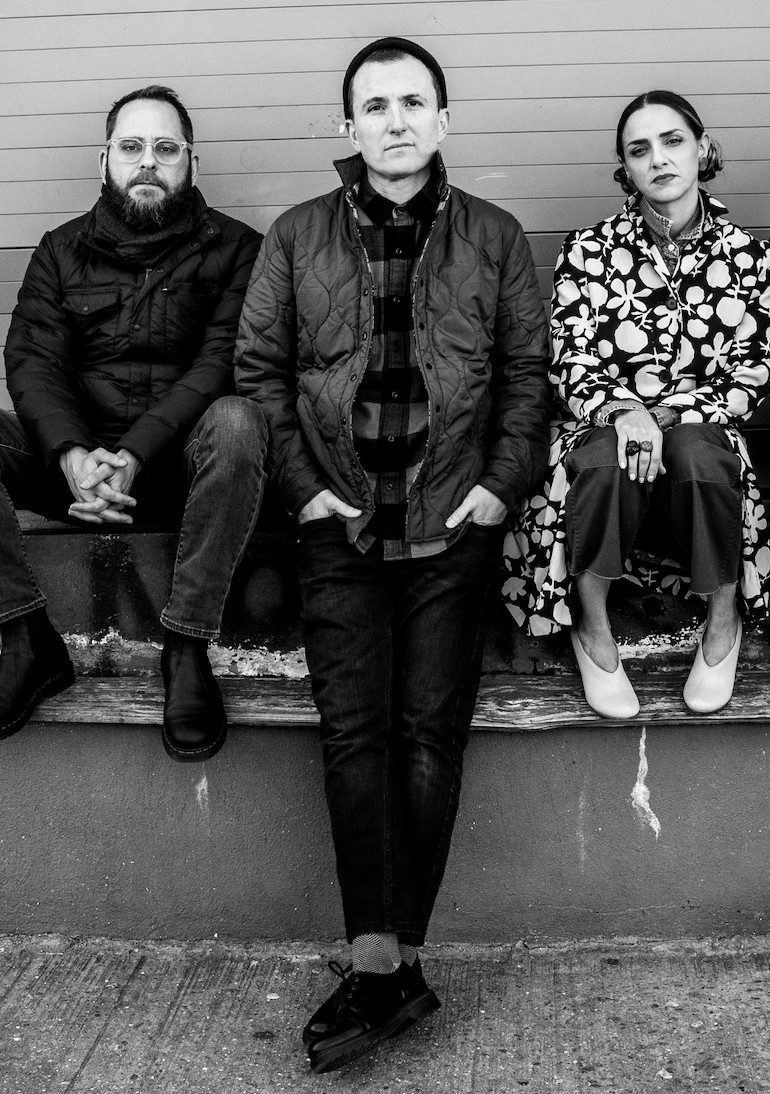 LAPECHE
Thursday, September 16th • Doors 8pm • Show 9pm
Blood in the Water, the second album by New York's LAPECHE, walks the line between nature and nuture, objective reality and subjective perspective, joy and pain, suffering and hope, and addiction and sobriety.
Since 2016, singer and guitarist Krista Diem, her husband and bassist David Diem (of 12 Hour Tum). guitarist Drew DeMaio (Asshole Parade. Floor, Strikforce Diablo). and (former) drummer Jeff Gensterblum (Small Brown Bike. Able Baker Fox) have fused folk-inspired melodies with sonic backdrops inspired by punk aesthetics. OIY scenes, and basement shows. As they've blossomed from a singer with a backing band to a full-blown collaboration, their songs have found the power to dive deep 'Nhile shining brightly, pushing toward personal growth as we collectively stare down the void.
Across the songs that make up Blood in the Water. Krista navigates our inextricable connection to others. On album opener "Finally Trying", she digs deep into our all-too-human ability to make things harder than they need to be -and how rarely this serves us. "Feathers tum to anchors.", she repeats, as the band soars above lhe weight of her words.
On "Oliver", she digs into the pain of losing a wanted pregnancy. driving rhythms propelling her forward in the face of loss. "Half baked, half right, naff sick, half light, half dosed, half cry, half yours and half mine· turns from a sequence of event, into a rallying can as voices join hers. a reminder of who's around us even in our darkest moments.
Throughout the record, she explores not just these feelings, but what it means to live with -and love -another, and how our weaknesses complicate our closest relationships. In Krista's words, "Bells" is about sobriety. "and not forgetting how bad it was when you weren't, and the freedom and joy that comes with not being controlled by addiction." Its breakthrough immediately follows "Salt and Sweet" which she calls "a cocktail of numbing out, being depressed. and extreme self-loathing." lt's a deserved turnaround, a transformation in miniature, and a glimmer of hope in tough times.
As the songs took shape, LAPECHE collaborated once again with friend and tourmate J. Robbins. Their strong friendship and working relationship continued to grow as they crafted Blood In the Water together. with J. producing, contributing instruments, and adding vocals to the songs along the way.
After appearances at The Fest in Florida and tours with both Jawbox and J. Robbins Band, LAPECHE has spent 2020 writing and recording virtually, having contributed to benefits for the National Independent Venue Association, Black Lives Matter, and more. Theyve also started a collaboration series with friends including Samuel Fogarino (Interpol), and Dave LeBleu (The Album Leaf, Mercury Program) contributing remixes.
Blood in the Water, on New Granada Records, released on April 9, 2021 is available on LP. streaming, and digital.