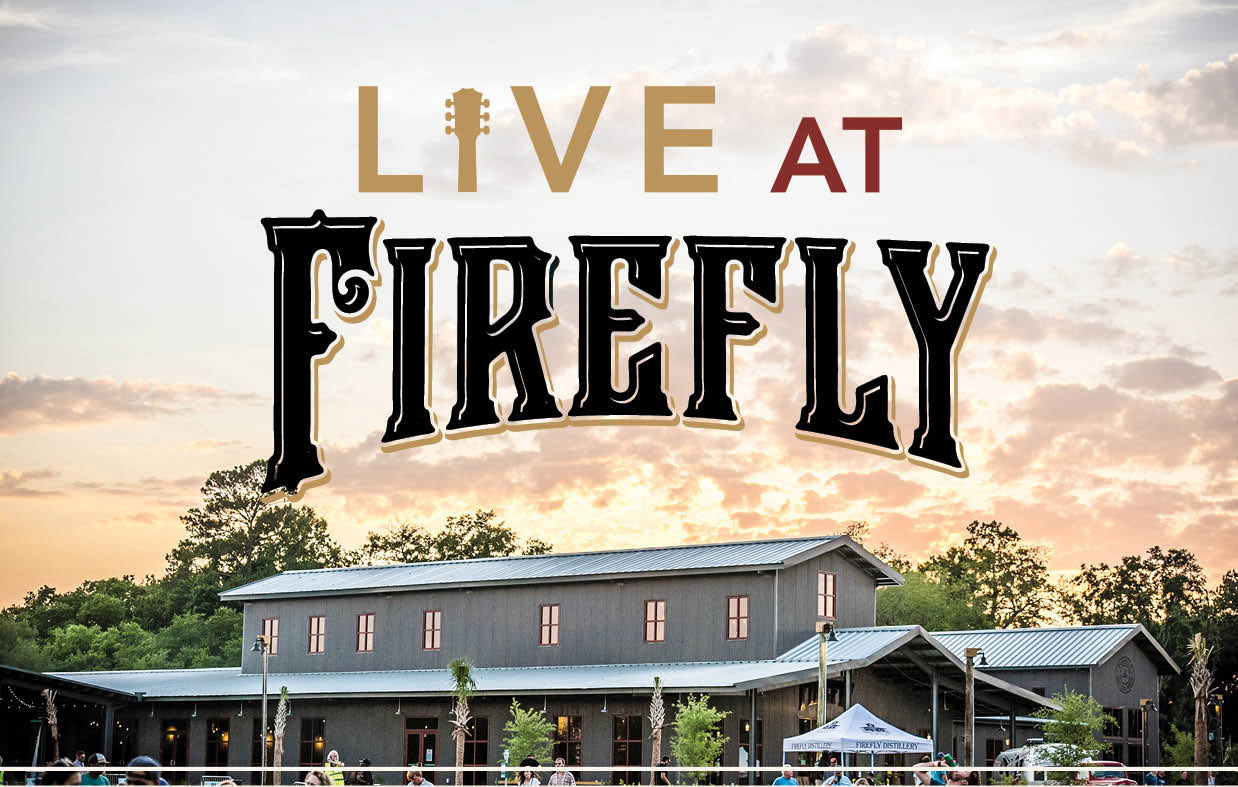 Live at Firefly Music Series
Sep 4th-Oct 23rd • Doors 6:00pm • Show 7:00pm
All ages
No outside food or drinks
Bring your own chair and blankets
Food trucks, beer, wine and Firefly cocktails will be available for purchase
All shows are rain or shine, tickets are non-refundable
COVID-19 safety protocols
August 25th 2021: update regarding the Live at Firefly Fall Music Series
We appreciate your understanding as we made the difficult decision to postpone our fall concert series, Live At Firefly, with the exception of the Walker Hayes tour.
Refunds will be credited to your original point of purchase.
Please keep an eye out for updates on 2022 concert dates
1. GENERAL STATEMENT
The safety and health of the community and our staff is of the utmost importance to Firefly
Distillery and Ear For Music. The precautions and event policies identified below represent the
efforts being made by the Distillery, Ear For Music, and its staff to keep our community safe
when attending events.
Firefly Distillery and Ear For Music will continue to follow the guidance of national, state, and
local agencies and will continue to seek out additional support from city agencies and industry
partners. Our policies as outlined below have been crafted with the input of local city and
public safety officials.
By attending any event at Firefly Distillery, you acknowledge the risk of becoming exposed to
or infected by COVID-19. You voluntarily agree to assume all the foregoing risks and accept
sole responsibility for any exposure.
2. COVID-19 HEALTH POLICY + ENTRY REQUIREMENTS
A. A full COVID-19 vaccination or negative COVID-19 test results within 72 hours of
concert dated will be required for all individuals ages 12 years old and older to attend
ticketed concerts at Firefly Distillery.
B. For patrons who are not fully vaccinated, a negative COVID-19 test result must be
obtained within 72 hours (3 days) of the concert date.
C. We will accept PRINTED OR DIGITAL COPIES of negative COVID-19 test result OR
full vaccination card. The date and time of ALL negative COVID-19 test results must be
clearly visible.
D. PHOTO ID will be required and must match the name on the vaccination card or proof
of negative test.
E. Children 3 years old or older will be required to provide proof of a negative COVID-19
test result within 72-hours of the concert date.
3. ACCEPTABLE FORMS OF NEGATIVE COVID-19 TESTS
A. Either a PCR or antigen COVID-19 negative test result will be accepted. We will accept
digital or printed proof of negative test results.
B. The date and time of the test must be clearly visible.
C. A photo ID must be provided with the proof of negative COVID-19 test.
D. At home test results will be accepted if the results have been linked to a verified medical
platform.
If you have questions about the COVID-19 vaccines or need resources to find a vaccination or testing location
near you, please check out www.vaccinefinder.org or scdhec.gov/covid19/find-covid-19-testing-location
4. GENERAL PRECAUTIONS
A. Please stay home if you are at high risk, sick, or if you have knowingly been exposed to Covid-
19 in the last 14 days.
B. Wash your hands often and use sanitizer.
C. No need to shake hands, elbow bumps are legit.
D. Firefly Distillery reserves the right to remove anyone from the property who is not abiding by the
guidelines as outlined here.
5. SOCIALLY DISTANT SEATING
A. We have created 10 x 10-foot safe spaces on our Field during live music events to help provide
guests with an area to spread out safely. At this time, no more than 4 guests are allowed per
10x10 foot area.
B. We have limited capacity to all events so those not seated in a Safe Square have plenty of room
to spread out on our 4 acre field to self-social distance.
C. All tables and benches on Firefly Distillery property have been placed at a minimum of 8 feet
apart.
D. Guests are asked to observe the social distancing guidelines of no more than 8 people at a
table at one time.
E. We ask that all guests respect the social distance space of others and maintain a 6-foot
distance from people who are not in your party.
F. Indoor common areas will operate at a reduced capacity.
6. EVENT EXPERIENCE
A. Event guests are encouraged to bring chairs and blankets to make their space more
comfortable.
B. Please refrain from bringing coolers, tents and outside food or drink.
C. Most events are all ages, but please leave pets at home. Please check with individual events for
specific age requirements.
D. Food trucks will be serving on site and Firefly Cocktails, beer, and wine will be available for
purchase.
7. INCREASED SANITATION
A. Per the CDC guidelines, staff will sanitize common surfaces such as bar tops frequently.
B. Firefly Distillery asks that all customers sanitize their hands with sanitizer provided before
entering the building.
C. Hand sanitizing stations have been added throughout the property for public and employee use.
D. Additional restrooms with a sanitation attendant have been added for all events.
8. STAFFING POLICIES
A. All staff serving a consumable product to guests are required to wear a protective mask.
B. Staff continues to be trained and educated on best practices as provided by the CDC, as well as
state and local agencies.
9. WAIVER
Firefly Distillery, LLC and Ear For Music cannot prevent you from becoming exposed to, contracting, or the spread of
COVID-19 while attending any event on premises. It is not possible to prevent against the presence of the disease.
Therefore, if you choose to attend events or utilize services on Firefly Distillery's premises you may be exposing
yourself to and/or increasing your risk of contracting or spreading COVID-19.
ASSUMPTION OF RISK: I have read and understood the above warning concerning COVID-19. By purchasing a
ticket to any event or utilizing any business services of Firefly Distillery, LLC or Ear For Music, I hereby choose to
accept the risk of contracting or being exposed to COVID-19. Further, I acknowledge Further, I acknowledge that I will not attend any event or utilize any service at Firefly Distillery if I have knowingly been exposed to and/or are showing symptoms of COVID-19.