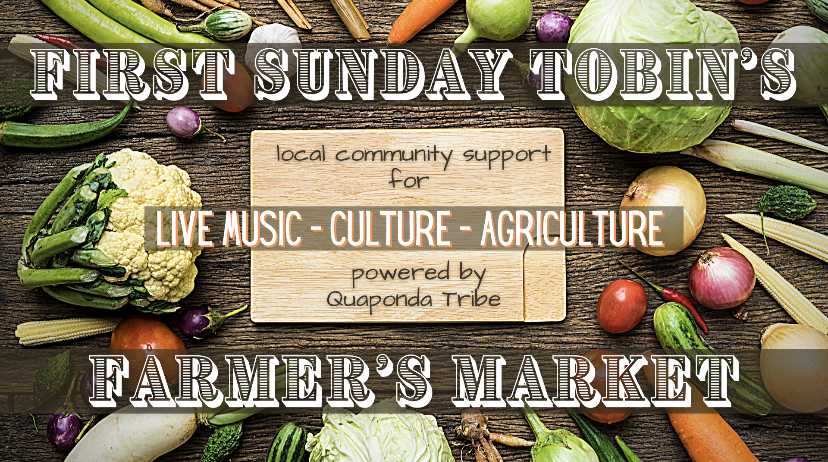 Powered by Quaponda Tribe
FIRST SUNDAY! Tobin's Farmer's Market


A Monthly Farmer's Market Supporting & Celebrating Local Culture, Agriculture & Live Music
SUN | AUG 1 | LIVE MUSIC 1PM | BAR & KITCHEN 12PM | FREE!
Event has ended. Please join us every FIRST SUNDAY at Tobin's Market to experience our Monthly Farmer's Market & Live Music Celebration of Culture powered by Quaponda Tribe!
Tobin's Market is teaming up with Halo Alkemis-Ptah Quaponda - Chief, tribal MC and Leader of the Indigenous movement Preserve the Gullah on the East Coast of South Carolina.
A message from Halo:
"Quaponda Tribe is an Indigenous alliance of native, and local communities. Our mission is to create inclusive economics for all cultures that sustain historical locations and traditions. We've joined Tobins Market to enhance this mission by officially launching "The Tobins Farmers Market"! This monthly experience will involve local Farmers, Crafters, Artist, Live music and more! Join us every First Sunday starting May 2nd, 12-4pm. All proceeds go to community programs and nonprofit organizations in the Lowcountry diaspora. We are a #farmoremarket !

- Chief Halo Quaponda
If you would like to support our mission and donate to the cause, please submit your contributions through our Go Fund Me Page listed below. Thank you so much, Tobin's Market & Quaponda Tribe greatly appreciate you!
✌🏻 😊 ❤️ DONATE HERE ❤️😊🙏🏾
#SeeYouAtTobins