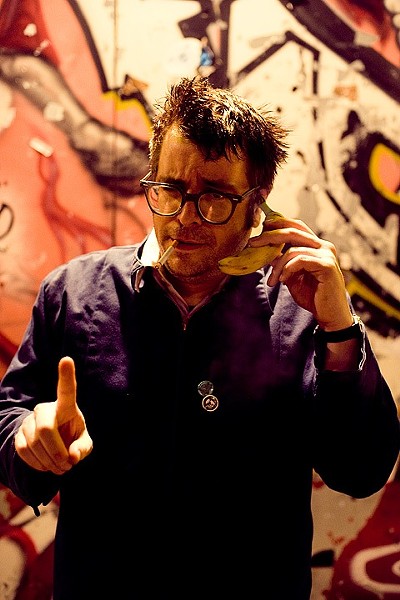 Jon Snodgrass & his Buddies / Reconciler / Rad Owl
Tuesday, October 26th--Doors 8pm--Show 9pm
Jon Snodgrass was born and raised
in St. Joseph, Missouri,
and later settled in Fort Collins, Colorado,
before forming Armchair Martian in
the early 1990s.[4] In 1996, he
started recording songs with ALL
singer Chad Price under the name
Drag the River. Since then, he has
continued putting out music with
both bands, as a solo artist, and as a
member of Scorpios.
Snodgrass has collaborated with
Chad Rex, Hagfish, Descendents,
Stephen Egerton, Joey Cape,
Lagwagon, Bad Astronaut, Cory
Branan, Frank Turner, Chuck Ragan
(Revival Tour and Hot Water Music),
Tim McIlirath (Rise Against), Chris
Wollard (Hot Water Music and Ship
Thieves), Vinnie Fiorello (Less Than
Jake), Scott Reynolds (ALL), Mike
Herrera (MxPx), Arliss Nancy, and
Jimmy Islip.
Reconciler:
If softly-Southern hardcore was a genre, Reconciler would be its gold-standard. Three low-rent gentlemen from Atlanta laying it down just hard enough to keep the kids interested while everyone their age stands in the back nodding with their arms crossed…if that sounds like your good time, then grab yourself a beer and maybe take out the earplugs for just this one set.(ex-Less Than Jake, A_F Records).
Rad Owl:
RAD OWL- For fans of classic melodic punk and hardcore, Rad Owl is the sonic equivalent of slipping on a new pair of Vans — familiar, comforting, and kick-ass fresh out of the box. Featuring ex-members of Samiam, Gratitude, Align, The Stereo and The Tank, this seasoned Minneapolis-based quartet dishes out energetic, hook-laden songs in the vein of SST/Cruz, Epitaph and Fat Wreck Chords faves like Descendents/ALL, Big Drill Car, Propagandhi and Snuff.
"Rad Owl are scene veterans fully displaying they know how to pull together a punk song: no filler and packed with dual guitar rhythm and melody, just the right amount of crunch, all held together with driving bass and drums. For any listeners bored with hipster, trendy rock that prefer to take pleasure in the recordings of Align, Propagandhi, and Samiam look no further than Rad Owl to freshen up your collection." – Big Takeover Magazine