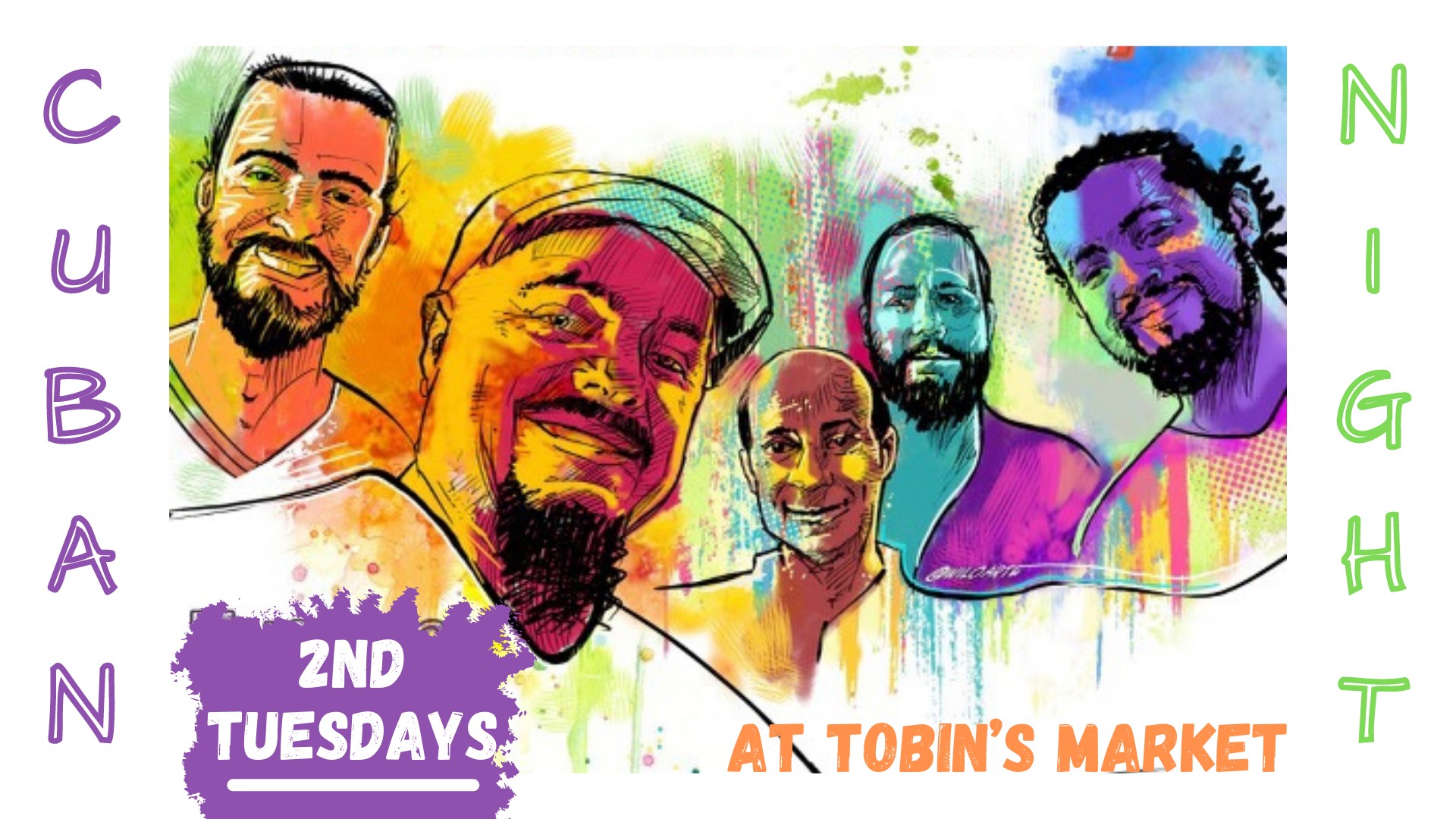 Tobin's Market presents SECOND TUESDAYS
Cuban Night w/ Gino Castillo & The Cuban Cowboys


Let's celebrate the Cuban culture with a fun night of incredible live music, dancing & drinks!
TUES | AUG 10 | 7:30 SHOW | $5 TICKETS | ON SALE NOW!
This ticket is no longer available online. If there are no more online ticket options, there may still be tickets available for purchase at the door. Thank you for supporting live music and our local artists. The Tobin's Market family greatly appreciates you! ✌️❤️🤟 #SeeYouAtTobins
Join us for CUBAN NIGHT at Tobin's Market! Expect to get down with some of the world's most well-respected Cuban musicians - and don't forget the dancing!
Gino Castillo is an Afro-Cuban jazz percussionist, singer and leader of the Cuban Cowboys based in Charleston. Their high-energy performances bring dancers and non-dancers to their feet.
Gino is an educator, composer, and singer. His accolades include: 
Jazz artist of the year City Paper Music Awards Jazz artist of the year Independent Tone Awards
He holds and honorary degree in percussion teaching, for George Gershwin Conservatory, He has studied at Caturla Conservatory, Felix Varela Conservatory, and under the tutelage of Oscarito Valdes (Cuba) 

He has collaborated with many international artists, such as:
Earl Klugh, Al Turner, Michael Mossman, Quentin Baxter, Etienne Charles, Horacio el Negro Hernández, Oscarito Valdés, Eddie Venegas, Charleston Jazz Orchestra, Charleston Smooth Jazz Orchestra, Lowcountry Latin Jazz Collective, Charleston Latin Jazz Collective, Jose Pepito Gomez, John Benítez, and many others.
As a teacher at Berklee College of Music International Network, Centro de Percusion Latina, and 
George Gershwin Conservatory, he is one of the most respected Latin percussion masters in the field.