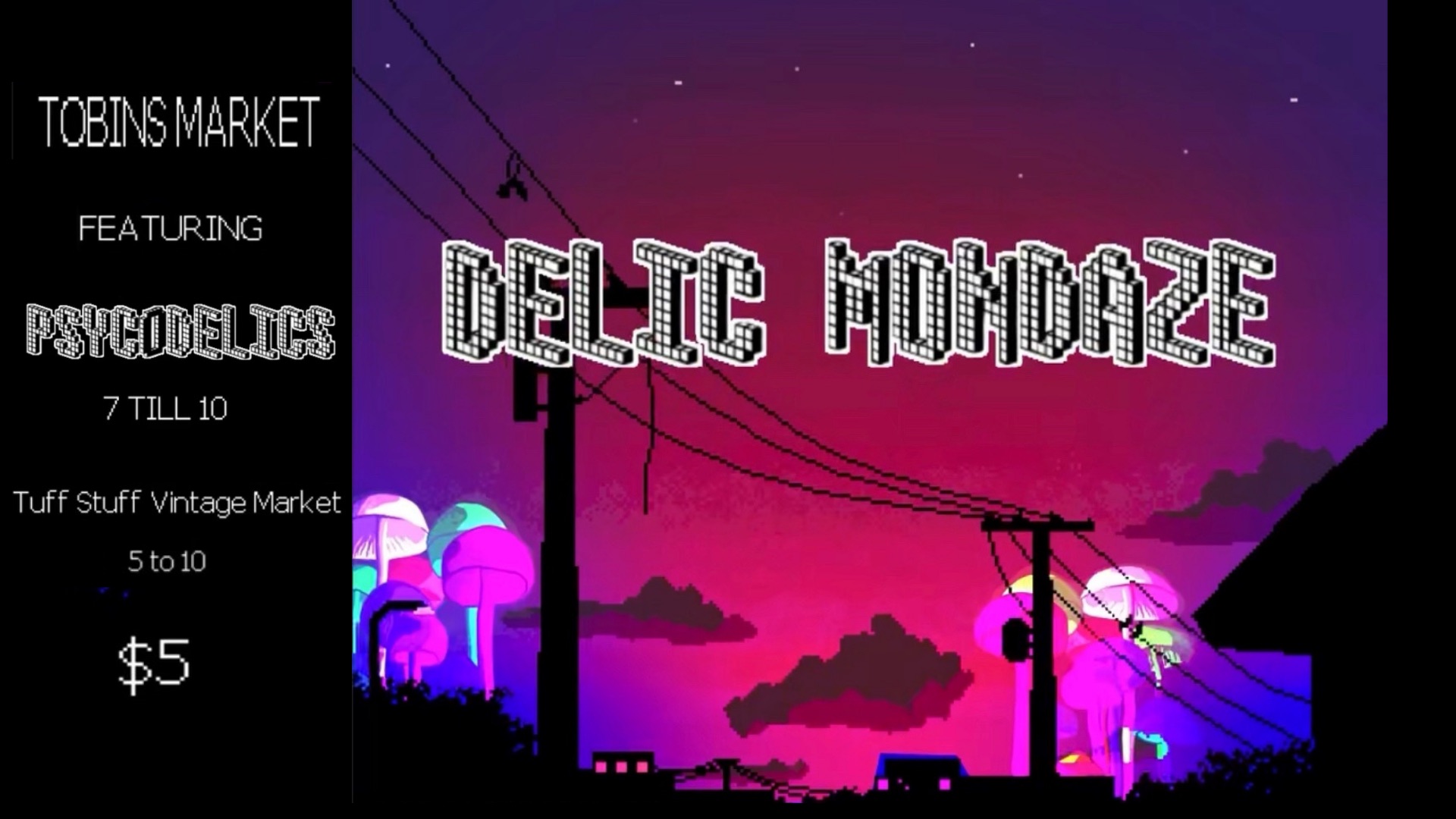 Tobin's Market presents
DELIC MONDAZE
MON | JUN 21 | 7:30PM SHOW | $5 TICKETS | ON SALE NOW!
Online ticket sales have ended, but tickets may still be available at the door. Thank you for supporting live music and our local artists. The Tobin's Market family truly appreciates you! #SeeYouAtTobins
Event for All Ages - Every Other Monday - $5 Entry
*100% of ticket sales are donated to support live music
Music starts at 7:30pm. Sushi All day! TuffStuff Vintage Clothing Pop-up & local jewelry pop-up.
The Psycodelics are a local Charleston funk, soul, R&B, Hip Hop super group featuring Noah Jones (keys), Cam Wescott (bass), Whitt Burn (guitar), Sean Bing (drums), Demario Kitt (drums) - they all sing, and yes, there are two drummers! Noah Jones is an award-winning local artist born and raised in Charleston, SC. He is a back-to-back recipient of City Paper's "Best Pianist in Charleston", a member of nationally-known band Little Bird, founding member of 420BDBM music studios, and the newly formed local super group, Psycodelics. Noah's musicianship and tasteful melodies provide the perfect ambiance to enjoy in our back courtyard at Tobin's Market. Noah has a background in jazz, but has honed his craft over the years to what is now a unique and tasteful soul powered menagerie served on our patio.
On Monday nights - alternating with local super blues group, Fox Hunt - Tobin's Market hosts DELIC MONDAZE live music series. If you're looking for some awesome live music, delicious food, great wine & beer selection, a vintage clothing pop-up, or even just a relaxing place to study or read a book, hangout with friends while enjoying a cold brew coffee, Mondays at Tobin's Market is the answer. If you stick around for the second set, get ready to put on your funk hat and bust a move, because the Psycodelics always turn up the heat after 9pm! #seeyouattobins