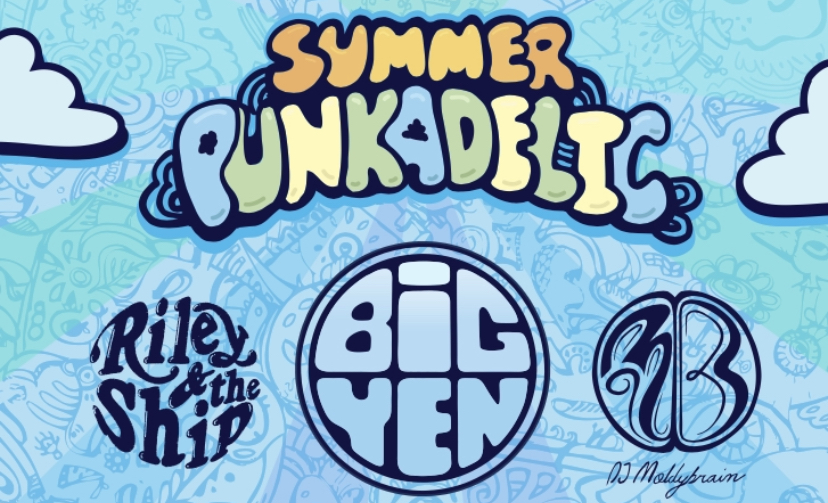 Tobin's Market presents
Summer Punkadelic feat. Big Yen w/ Riley & The Ship + DJ Moldybrain
FRI | JUN 18 | 7PM SHOW | $15 TICKETS ON SALE NOW!
This ticket is no longer available online. If there are no more online ticket options, there may still be tickets available for purchase at the door. Thank you for supporting live music and our local artists. The Tobin's Market family truly appreciates you! #SeeYouAtTobins
SUMMER PUNKADELIC TOUR!
Big Yen -
Punk rock infused reggae, hip hop back beats, and pop melodies from the soul.
Big Yen is the artistic fruit of Charleston based musical gardener, James Frolio. A punk rock and hip-hop hippie, James's story has a feel-good vibe with life lessons, cheeky social commentary, and being real to yourself and others.
Yen, in Chinese, means a lifelong yearning or desire. In this case, Big Yen is the strong desire to make music that truly moves people.
Big Yen features a revolving line up of Frolio's close friends and creative collaborators;
Since performing alongside up and coming regional acts such as Of Good Nature, Feel Free, Tyler Boone, AirPark and others, Frolio comments that: "My only guarantee is that any song will have my whole soul in it."
Big Yen's debut Self Titled EP was released in February 2020 and was produced by Grammy award winning recording engineer, Elliott Elsey, and its single "Backflip" produced by John Shields of the rambunctious hip hop duo Little Stranger.
Charleston's Riley Randall has just unveiled the first single from his new collaborative project, Riley & The Ship called "Sharks in the Water".
Riley is a veteran songwriter who uses his craftily written music like a window into the self.
Drawing from personal experiences, his introspective lyrics pull you into a beautiful wave of nostalgia, hope, and a healthy dose of millenial reality. Riley has a way with songs that cannot be easily described; a natural performer in his own way and a rocker at heart, his performance is one that guarantees goosebumps or your money back.
The next single from Riley & The Ship is gearing up to be released later this year!
Adaptogenic Soundscape. DJ Moldybrain is a vibe and energy like you've never heard before and a priceless experience of sound melding and genre crossing beats, throwbacks, and new compositions. It's best to let the music do the talking!
*Artwork by Tommy Fox