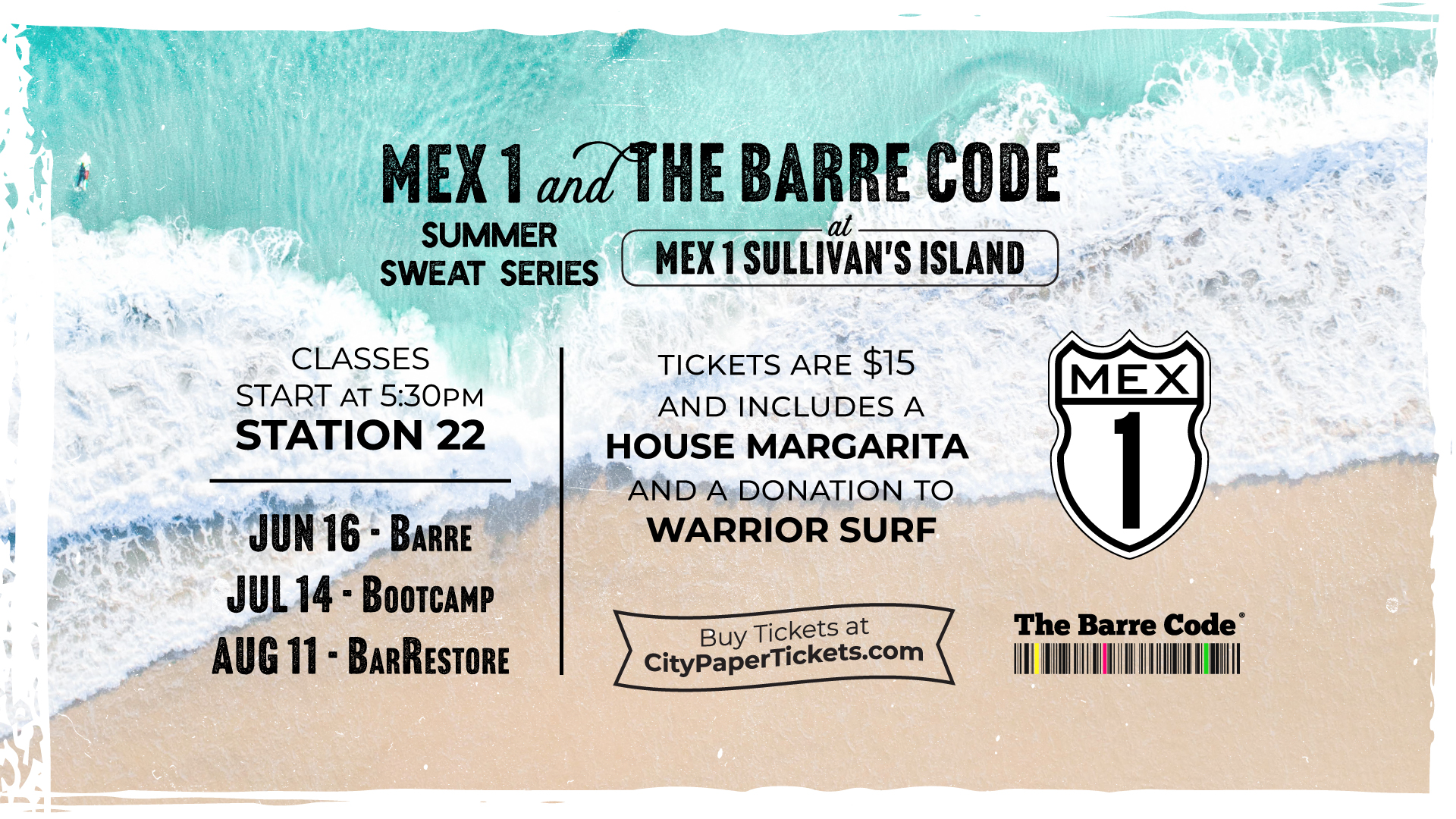 Summer Sweat Series with Mex 1 and The Barre Code - Bootcamp Class
Wed, Jul 14, 2021 at 5:30pm
Mex 1 Coastal Cantina and The Barre Code are excited to offer a Barre pop-up summer sweat series this summer at Station 22 on Sullivan's Island. Each class will be $15 and will include your first Mex 1 Margarita or Hydrator at Mex 1 after. A portion of the summer sweat series will benefit Warrior Surf Foundation, a non-profit whose mission is to improve the lives of Veterans through Adaptive Surf Therapy. The summer sweat series dates and class styles will be:
· Wednesday, June 16th at 5:30pm – Barre Class - Pulse and shake in our 50-minute signature class that combines barre work and isometric movements with exciting movements and high-energy playlists.
· Wednesday, July 14th at 5:30pm – Bootcamp - Strengthen and sweat in our 50-minute Bootcamp class that improves cardiovascular conditioning & functional strength with bodyweight, HIIT, and bumping beats. Bring your own mat and wear tennis shoes.
· Wednesday, August 11th at 5:30pm – BarRestore - Let go in this 50-minute restorative class that combines our signature Barre class with a 20-minute extended stretch & meditation. You'll release tension, prevent injury, and leave feeling restored. Bring your own mat.
We are selling a limited amount of tickets for each. So buy your tickets now for the Bootcamp Class on Wednesday, July 14th! The other classes are available on City Paper Tickets. Don't forget to bring your mat! The attendees that purchase a ticket to all three sessions will have the chance to win a five-class pack from The Barre Code and a pair of tights from River and Wilds.
Click here for more information on The Barre Code in Mount Pleasant. What you can expect in this 50 minute class is a workout that targets all the major muscle groups of your body through small-range, isometric movements designed to build strength & muscular endurance. In addition to overall strength, you'll also build a stronger core, increased flexibility and mental toughness
Click here for more information on Warrior Surf Foundation.