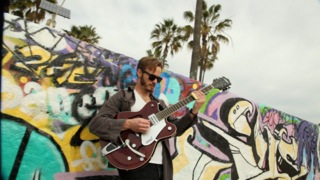 Pete Henry: One-Man Band - Wine Down Wednesday
WED | APR 14 | 7PM SHOW | $5 ENTRY | 25% OFF WINE!
Pete Henry Fisk, b. 1985, is a singer and instrumentalist from California. He began playing guitar at age nine, studying with Craig Sorrenti, and forming his first band with his mother on keys. By age thirteen, Pete had begun playing professionally around the Stockton and Modesto areas in Northern California. At age sixteen, he was being recognized for his skills on the guitar, competing in several different styles of music, winning 1st prize at the Stairway to Stardom concert in 2002 with his group, Concrete Rose, as well as the Louis Armstrong Award and Most Outstanding Jazz Soloist Award as a member of the Escalon High School Jazz Band.
Pete went on to study with early music with guitar virtuoso, John Schneiderman, at the University of California, Irvine, where he obtained his MFA. He was involved in a number of esteemed musical ensembles, including the UCI Guitar Ensemble, the IVC Guitar Ensemble, and the Cal State Fullerton Orchestra, where he traveled regularly and performed in concert halls across the nation. Meanwhile, Fisk maintained a love and commitment to other traditions by attending blues, jazz, and folk jams around Orange and Stanislaus Counties of California.
Since graduating college, Pete has stayed busy as a professional musician, composing works for screen and film, forming the band HIYA, the Ellenwood Kitchen Club, the 21st Century Woody Guthrie Project, the 21st Century Gershwin Project, all the while teaching guitar and music for the South Orange County Community College District. Most recently, he has focused on guitar and mandolin transcriptions of modern music, from jazz, early Americana, to the latest contemporary songs.
Though mostly a soloist now, Pete enjoys collaborating with other musicians as often as possible. He has since spread his one-man band arrangements and styling around the world, coast to coast of the United States, to the Caribbean Islands, Bermuda, Europe and the Eastern Mediterranean.
#SEEYOUATTOBINS