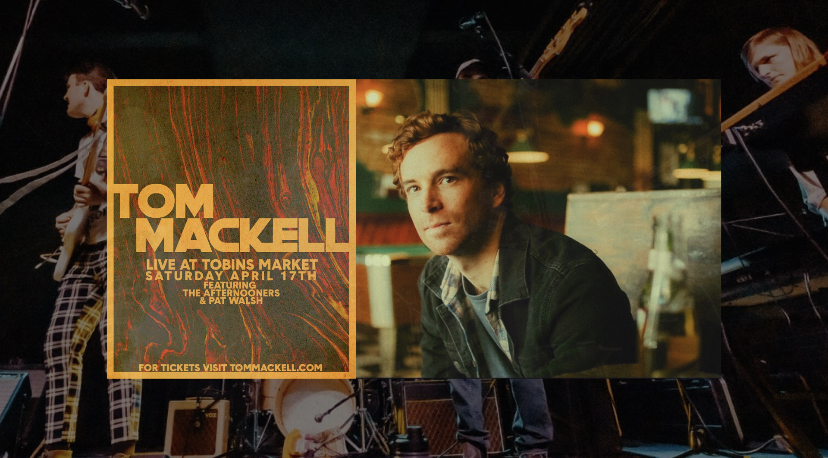 Tom Mackell feat. The Afternooners & Pat Walsh
SAT | APR 17 | 7PM SHOW | $10 ADV | $12 DOS | ON SALE NOW!
Tom Mackell
A Charleston, South Carolina-based singer/songwriter whose honest and soulful mix of Americana, pop and rock creates a melodic, smooth sound that's effortlessly organic. Originally from the suburbs of Philadelphia, Pennsylvania, Mackell honed his skills performing at bars and restaurants. He performed back and forth between Philadelphia and Charleston before moving to Nashville in 2015. Diving headfirst into music city, he landed a job at a talent agency while also writing and recording in his free time. He then went on to release five singles from 2016-2018 followed by a five-track EP in 2019 and his latest single "Strange Times" in 2020.
Currently, Tom has a catalog of new music on the horizon. His new single, "Maybe Tonight", drops on March 5, 2021. Released alongside an official video, the song is a powerful blend of Americana, pop and rock. The song is thoughtful, introspective and hopeful in its lyrical content. Complemented by alluring electric guitars and a driving backbeat, Tom's new single sets the tone for the rest of his year. "In releasing this new song I wanted to touch upon the fact that my influences range from soul and pop to folk and rock. Something I admire about artists today is that there is so much genre-defying music. I enjoy making art that has no guidelines and is just a pure human expression."
For information and updates, stay tuned to tommackell.com and follow him on Instagram @tommackell, Twitter @tommackell and on Facebook at facebook.com/tommackellmusic.
The Afternooners
The Afternooners are a group of guys hailing from Chattanooga, TN who cherish good times and great music. Known for their high-energy live shows, they never fail to impress each listener in the room by exploring genres such as, Jazz, Reggae, Blues, and Alternative Rock. Nothing is off limits as they are constantly branching out and reaching for new sounds!
Since 2017, The Afternooners have played all throughout the southeast, racking up 80 plus college shows. Since then they've established a name for themselves in each city and are quickly growing a strong following. Keep your eyes peeled for the next time they roll through your city.
In the Spring of 2021, The Afternooners are releasing their debut full-length LP recorded at Plaid Dog Recording in Boston, MA.