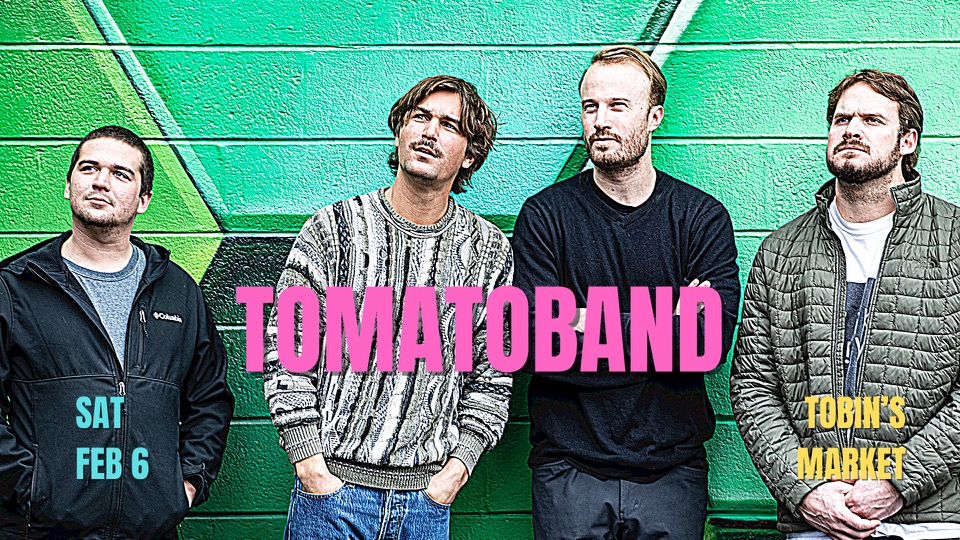 An Evening with Tomatoband
SAT | FEB 6 | 6PM DOORS | 7PM SHOW | $10 ENTRY | ON SALE NOW
Experimental music, inspired by elegant parties, countless hors d'oeuvres, and responsible psychedelia.
CHARLESTON, SC
🍅
The Tomatoband experiment commenced in Richmond, VA in the fall 0f 2010. Life-long friends, Charlie Mitchell, guitar, and Alex Irwin, keyboards, starting writing odd music and performing it around town as a duo. Some catchy tunes melted into some weird improvisation, and the mold was born.
In 2017, Tomatoband fully-relocated to Charleston, SC as an electric four-piece band. Today, Jake Acheson, drums, and Paul Joliet, bass guitar, comprise the rhythm section, and, with dozens of original tunes and more on the way, the experiment has taken on greater scale. Under their indie label, Wappoo Cuts Records, the band has released three full-length studio records, Disc Uncertain (2017), Routine Interactions (2018), and Bird Hotel (2019). With their relentless pursuit of creative excellence, the band has established themselves as willing bards for a new generation.
🍅
Featured in the July/August 2018 issue of Relix Magazine and annually nominated for Jam Band of the Year by the Charleston City Paper, Tomatoband is being recognized for its hard work and original approach to sound and music. With a strong emphasis on satirical songwriting and improvisation, the band's sound manifests itself in a unique live performance at each stop along the road.
🍅
The Post and Courier describes Tomatoband's sound as "experimental...featuring funk, jazz, electronic, reggae and psychedelic elements...Explorative ethereal patterns...unlike anything you've ever quite heard."
🍅
We just call ourselves a rock band.
Guitar - Charlie Mitchell
Keyboards - Alex Irwin
Bass Guitar - Paul Joliet
Drums - Jake Acheson
🍅
Since 2010