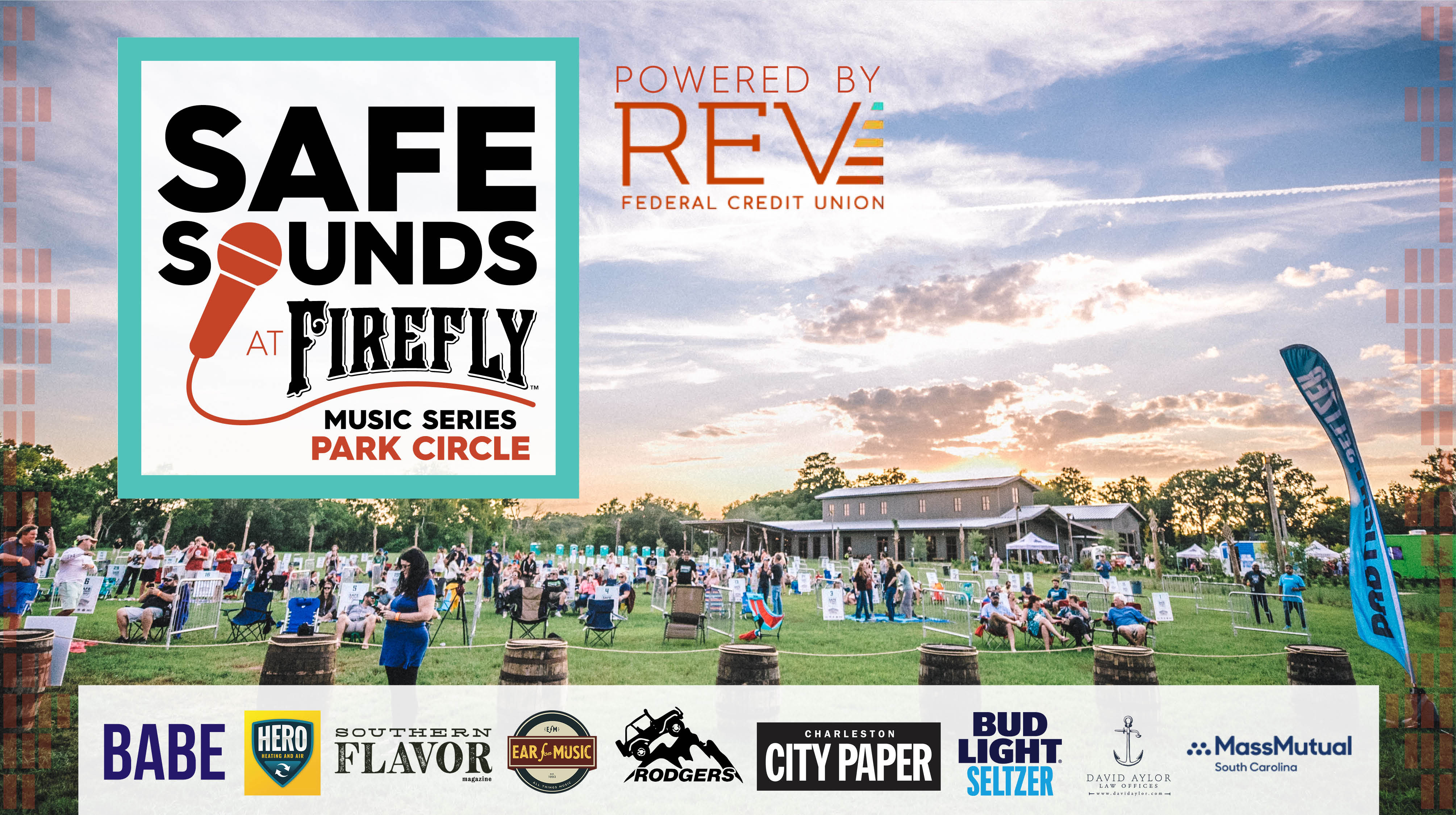 Safe Sounds at Firefly Music Series


powered by REV Federal Credit Union
April 17th-June 26th • Doors 6:00pm • Show 7:00pm
No Pets
No Coolers or Outside Food & Drink
Each 10' x 10' Safe Space Square Ticket includes concert admission for four adults
21+
Safe Sounds at Firefly powered by REV Federal Credit Union and produced by Ear For Music and Firefly Distillery is back in 2021 with a third installment of Charleston's first socially-distanced concert series.
The spring Safe Sounds concert series will kick off on March 19 and will feature national musicians and homegrown favorites. Attendees will enjoy live music, beer, wine and food truck fare from the sprawling fields of the new Firefly Distillery in Park Circle, 4201 Spruill Avenue. Up to four guests can enjoy live music in 10x10 Squares that allow for safe social distancing.
Safe Sounds at Firefly is Powered by REV Federal Credit Union, & Presented by Bud Light Seltzer & BABE wine. Other sponsors include Hero Heating & Air, Rodgers Wranglers, Southern Flavor Magazine, David Aylor Law Firm, Mass Mutual SC and Charleston City Paper. Charleston's #1 DJ Natty Heavy will be spinning pre-game tunes and during set breaks.
*DJ Natty Heavy will be spinning from 6-6:45pm. Doors open at 6:00pm, concerts begin at 7:00pm.
1. GENERAL STATEMENT
The safety and health of the community and our staff is of the utmost importance to Firefly Distillery and Ear For Music. The precautions and event policies identified below represent the efforts being made by the Distillery, Ear For Music, and its staff to keep our community safe when attending events.

Firefly Distillery and Ear For Music will continue to follow the guidance of national, state, and local agencies and will continue to seek out additional support from city agencies. Our policies as outlined below have been crafted with the input of local city and public safety partners.

By attending any event at Firefly Distillery, you acknowledge the risk of becoming exposed to or infected by COVID-19. You voluntarily agree to assume all the foregoing risks and accept sole responsibility for any exposure.
2. GENERAL PRECAUTIONS
A. Please stay home if you are at high risk, sick, or if you have knowingly been exposed to Covid-19 in the last 14 days.
B. Masks are required by all guests anytime they are in line at concessions or interacting with event staff and vendors.
C. Wash your hands often and use sanitizer.
D. No need to shake hands, elbow bumps are legit.
E. Firefly Distillery reserves the right to remove anyone from the property who is not abiding by the guidelines as outlined here.
3. SOCIALLY DISTANT SEATING
A. We have created 10 x 10-foot safe spaces on our Field during live music events to help provide guests with an area to spread out safely. We've allotted an 8-foot distance between each square. At this time, no more than 4 guests are allowed per 10x10 foot area.
B. All tables and benches on Firefly Distillery property have been placed at a minimum of 8 feet apart.
C. Guests are asked to observe the social distancing guidelines of no more than 8 people at a table at one time.
D. We ask that all guests respect the social distance space of others and maintain a 6-foot distance from people who are not in your party.

4. EVENT EXPERIENCE
A. Event guests are encouraged to bring chairs and blankets to make their 10x10-foot safe space more comfortable.
B. Please refrain from bringing coolers, tents and outside food or drink.
C. This event is 21+ so please leave the little ones at home, including pets.
D. Food trucks will be serving on site and beer/wine will be available for purchase.

5. INCREASED SANITATION
A. Per the CDC guidelines, staff will sanitize common surfaces such as picnic tables and bar tops after each customer use.
B. Firefly Distillery asks that all customers sanitize their hands with sanitizer provided before entering the building.
C. Hand sanitizing stations have been added throughout the property for public and employee use.
D. Additional restrooms with a sanitation attendant have been added for all events.

6. STAFFING POLICIES
A. All staff serving a consumable product to guests are required to wear a protective mask.
B. Firefly Distillery will check temperatures of all staff prior to each shift and prior to entering the building.
C. Staff continues to be trained and educated on best practices as provided by the CDC, as well as state and local agencies.

7. WAIVER
Firefly Distillery, LLC and Ear For Music cannot prevent you from becoming exposed to, contracting, or the spread of COVID-19 while attending any event on premises. It is not possible to prevent against the presence of the disease. Therefore, if you choose to attend events or utilize services on Firefly Distillery's premises you may be exposing yourself to and/or increasing your risk of contracting or spreading COVID-19.

ASSUMPTION OF RISK: I have read and understood the above warning concerning COVID-19. By purchasing a ticket to any event or utilizing any business services of Firefly Distillery, LLC or Ear For Music, I hereby choose to accept the risk of contracting or being exposed to COVID-19. Further, I acknowledge that I will not attend any event or utilize any service at Firefly Distillery if I have knowingly been exposed to and/or are showing symptoms of COVID-19.
Safe Sounds at Firefly Music Series powered by REV Federal Credit Union & Ear For Music presents

20 Ride: America's #1 Zac Brown Tribute Band
Saturday, April 17th • Doors 6pm • Show 7:00pm
10' x 10' Safe Space Square (includes four adult admission tickets)
America's # 1 Zac Brown Tribute Band, 20 RIDE, is American Country/Folk music at its finest. The first tribute of it's kind, they are taking audiences by storm.

AUTHENTIC VOCALS, AUTHENTIC MUSIC, an AUTHENTIC BAND. This is not a wig wearing, lip syncing, pretending to play tribute. These are real players, doing the great music the way Zac does at all his concerts. Up close and personal, moving, and fun! With nine hit singles, two platinum selling albums, and countless fans, Zac Brown is quickly becoming a country music legend. Now getting $500,000 per show, 20 RIDE is your affordable answer, unless you are really rich!

From traditional country, to Caribbean rhythm, to sultry bedroom ballads, 20 RIDE brings all the best Zac has to offer. Pushing the limits of what their talents offer, there is something for everyone. Whether you love their mega hits like "Chicken Fried" , "Colder Weather" ,"Free" , "Toes" , "Highway 20 Ride" or many more, 20 RIDE will play all your favorites and some cool covers too.

Comprised of good ol' boys from upstate Carolina, these guys know how to entertain. With an insane work ethic like the real Zac Brown Band, they have a unique ability to include everyone in their show. Performing for years in a cover band, their experience performing together shows. Great harmonies and tight musicianship make 20 RIDE perfect for outdoor festivals, cool rehearsal dinner parties, killer clubs, rockin' pool parties or anywhere people love to have fun.

If you want more than just Zac, just ask.
Safe Sounds at Firefly Music Series powered by REV Federal Credit Union & Ear For Music presents

Randall Fowler


with special guest TBA
Saturday, April 24th • Doors 6pm • Show 7:00pm
10' x 10' Safe Space Square (includes four adult admission tickets)
Virginia born and South Carolina raised Randall's roots run deep in country music, but he has a voice able to captivate listeners of all genres. Placing a modern twist on early 80's and 90's country, Fowler grabs your attention with his slick ability to blend R&B into his rock and country. With these talents Randall has been awarded many accolades over the past ten years. Most recently being crowned Best Male Vocalist in the Charleston City Paper 2020.
Randall has had the opportunity to open up shows for several big name artists such as, Tracy Lawrence, Mitchell Tenpenny, Walker Hayes, Scotty McCreery, Lauren Alaina, Carly Pearce and Chris Lane. Since his solo debut in 2018, Randall has been hard at work recording new music in Nashville and is eager to show the world what he's been working so hard on. Randall released his second single of 2020 titled "Slow it Down" at the end of July and his most recent, a powerhouse ballad "Coming Home (One Way Road)" marked his third release of the year, arriving in Early December, with plenty more music set to head your way in 2021.
You can follow Randall on all social media platforms under "Randall Fowler Music" @ Instagram, Facebook and TikTok. Follow him as his music career blossoms into what we know is going to be big.

Safe Sounds at Firefly Music Series powered by REV Federal Credit Union & Ear For Music presents

The Allman Betts Band


featuring a solo acoustic performance from Jackson Stokes
Sunday, April 25th • Doors 6pm • Show 7:00pm
10' x 10' Safe Space Square (includes four adult admission tickets)
When The Allman Betts Band released Down to the River in June of 2019, the debut album represented not only the first time the group had recorded together, but, in fact, the first time the seven-piece ensemble had ever played together. If Down to the River was the sound of the band's combustible sparks igniting, then Bless Your Heart is their bonfire, built for the summer of 2020 and beyond; a double-album follow-up fueled by road-forged camaraderie and telepathic musical intensity, vibrantly reflecting the individual and collective experiences of these seven, all drawing inspiration from the band's symbolic hometown- a place Devon Allman calls "the United States of Americana."
In 2019, as Down to the River topped charts and dotted playlists, The Allman Betts Band toured. Relentlessly. Sold-out U.S. theatres in spring turned to festival dates in summer, even crossing over the Atlantic for a string of European appearances. It was in Germany in late July when Allman, the group's co-founder, guitarist, and singer, required a tour-ending hospital stay for minor, but necessary surgery. His recovery postponed several ensuing shows, but the writing for a second album enthusiastically continued.
Along with co-founder, guitarist, and singer Duane Betts, the pair already had a growing notebook of new songs, largely composed on the tour bus or in hotel rooms in cities and towns across the country: Baton Rouge, Louisiana and Tybee Island, Georgia; Chicago, Illinois and Charlotte, North Carolina, to name a few. They re-enlisted Stoll Vaughan, a singer-songwriter from Los Angeles (via Kentucky), who'd collaborated on five of River's nine tracks, to advise on the developing material. And they booked a return to Alabama's Muscle Shoals Sound Studio, the historic recording facility where they'd cut the debut, as well as re-signing Grammy-winning producer Matt Ross-Spang to reprise his role helming the recording.
After Allman's healthy return and a run of fall tour dates, including the third annual Allman Family Revival (expanded from San Francisco to Denver and New York City), the group decamped to Nashville for rehearsals ahead of the recording session, fleshing out the new songs until satisfied they had reached peak performance. "We thought that if we can maximize the potential of each song, then we have a shot at making a cohesive, great record," says Allman.
Under a siren's warning of approaching tornados, but secure in the familiar, single-story brickhouse comfort of Muscle Shoals, the band began tracking its own brand of whirling, raucous rock-and-roll. Following a year's worth of touring as a unit- as Allman says, the "200 races the horse had run"- the dividends were immediate and plentiful. "Now we know how the band plays. We know to trust each other's instincts. The dynamics have a flow to them: when to step back; when to push forward," says Allman. Adds Betts, "Once we got rolling, the floodgates opened."
A conflagration of influences and invention, confidence and ambition, Bless Your Heart captures a vast, panoramic scope throughout a baker's dozen of modern rock. Ragged and stomping. Heady and frayed. Soaring and scorching. Generational and genteel. West Coast scenes and Gulf Coast shores. Gateways of the Midwest and swamplands of Florida. Wyoming's Big Sky. New York's Big Apple. Chicago's Broad Shoulders.
Among the fiery set is "Magnolia Road," a semi-autobiographical overview of Allman and Betts written, ironocally, by Vaughan alone, and a tie-dyed contender for summer festival favorite. There is the album's starter, "Pale Horse Rider," ominously evolving into a dark and dense rumbler accentuated by an unbridled storm of guitars, evoking the spirit of Neil Young's Crazy Horse and modern counterpart, My Morning Jacket.
And "Ashes of My Lovers," a mourning motif of romance and wreckage, inflected with traildusted harmonica complementing the cinematic Badlands spook. Or "Airboats & Cocaine," with its tongue firmly in its cheek, telling the Southern Gothic tale of a girl born into the wrong family and her guy regretting his incidental associations with the underbelly of swampland contraband, wrapped up in a loose, mid-tempo stinger.
Over a week's time, they recorded 13 songs, with additional tracking in Memphis and St. Louis. Within the eclectic repertoire are the familiar: stacks of guitars; electric, acoustic, and slide; a throttling, percussive rhythm section. And the fresh: Bassist and singer Berry Duane Oakley's ABB vocal debut on his original song ("The Doctor's Daughter"); Allman's baritone vocal channeling Johnny Cash ("Much Obliged"); Betts extending the legendary family legacy of incendiary instrumentals "Savannah's Dream"). They tapped friends, as well, such as Jimmy Hall, Shannon McNally, Art Edmaiston, Susan Marshall, and Reba Russell for guest contributions. Then, emerged with an undeniable achievement of an album (what sophomore jinx?) worthy of its winking, unabashedly Southern title.
"I think we definitely challenged ourselves, pushed ourselves artistically, and widened the spectrum on all levels. We wanted something that was a little more sweeping. A deeper experience," says Betts.
Says Allman, "I hope what people hear on Bless Your Heart is a band that's having a love affair with being a band."
For guitarist and singer-songwriter Jackson Stokes, great musicians make great neighbors. Even as a youth weaned on classic rock- his first concert was Lynyrd Skynard- Stokes was unaware that living across the street from his St. Louis home was guitarist and singer-songwriter Devon Allman. Allman's family tree is impressive as the son of Gregg Allman and nephew of Duane Allman of Allman Brothers Band fame. Yet, Stokes knew little of the legendary group. Encouraged by his father, and holding his guitar, the 11-year-old Stokes knocked on Allman's door.
Allman, two decades his elder, heard something special in the young Stokes and encouraged him to continue learning and growing as a musician. In May of 2019, Stokes put the finishing touches on a striking inagural effort. Produced by Allman, it is a lean and focused set of rock-and-soul, including an ambitious Talking Heads cover, and a depth of original material ranging in style and subjects. From the Memphis stroll of the opening "Can't Getcha Out," through the reflective acoustic closer, "Take Me Home", the debut encompasses Stokes' wide swath of influnces and tastes. There's the '60s R&B update that morphs into modern rock on "Slave", the staggering punches of overdriven guitar on "Time is Now," and the midnight seduction of "Contents Under Presure." A flourish of pleasing guitars finishes the slowly climbing blues-rock centerpiece, "You and Your Partner," while David Byrne meets Southern funky on "Life in Wartime." As well, Stokes welcome the sunny-days slide guitar of The Allman Betts Band's Johnny Stachela to brighten the Southern sway of "Sins are Forgiven," complementing that with the chunky Saturday night blues of "Whiskey."
"I really do enjoy playing guitar, but I also love songwriting. I love the whole process" says Stokes. "I think this album is very representative of a natural maturation, of how I've been viewing things on my journet. And, hopefully, it's a journey that's just beginning."
Safe Sounds at Firefly Music Series powered by REV Federal Credit Union & Ear For Music presents

Sam Bush
Thursday, April 29th • Doors 6pm • Show 7:00pm
10' x 10' Safe Space Square (includes four adult admission tickets)
From teen fiddle champion to groundbreaking mandolinist to universally revered "King of Telluride," there is only one Sam Bush. The son of Kentucky reared on Bill Monroe's bluegrass came of age in the counter-culture cyclone of the late '60s. In the genre's outsiders like the Osborne Brothers and The Dillards, Bush heard the future, and by the dawn of the 1970s was leading his own New Grass Revival, driven by the power of rock-and-roll and the freedom of improvisational jazz.
Bush and his hippie co-conspirators changed the bluegrass landscape, touring with Leon Russell, winning fans at festivals across the country, including favored status at Telluride, and recording Grammy-winning songs. At the group's peak, after taking aim at the top of the Country charts, Bush walked away. Subsequent stints with Emmylou Harris and Bela Fleck brought him well-deserved recognition, numerous awards, and the gushing respect of a whole new generation of bluegrass upstarts.
The once rebellious apprentice had become the genre's gold-standard master. And now, for fans everywhere, the DVD documentary telling Bush's full story, Revival: The Sam Bush Story, not only chronicles the life and career of the newgrass creator, but weaves an emotional, inspiring story about the risks and rewards of being a musical iconoclast.
Safe Sounds at Firefly Music Series powered by REV Federal Credit Union & Ear For Music presents

On The Border: The Ultimate Eagles Tribute Band
Saturday, May 1st • Doors 6pm • Show 7pm
10' x 10' Safe Space Square (includes four adult admission tickets)
On the Border - The Ultimate Eagles Tribute continues to be one of the most exciting and authentic Tribute bands in the country! Anointed "The Greatest EAGLES Tribute in the World" by AXSTV's Host Katie Daryl, they have been satisfying audiences all over the country at Music Venues, Festivals, Casinos & Corporate events.

On the Border pulls it off tremendously, treating fans to an authentic concert experience while journeying through The Eagles songbook. The band covers every big hit, from ballads such as "Desperado" and "Lyin' Eyes" to rockin' hits such as "Life in the Fast Lane" and "Heartache Tonight", with such accuracy, listeners may confuse "On the Border" with the real Eagles!

What sets them apart from other Tributes, is each person was selected to emulate the sound of that Eagles member performing & singing their parts. Their passion, showmanship and precise attention to replicating the details of The Eagles Music, has earned them critical acclaim, name recognition and a very loyal following. It's truly a masterful sound to witness yourself.

Safe Sounds at Firefly Music Series powered by REV Federal Credit Union & Ear For Music presents

Runaway Gin: A Tribute To Phish
Saturday, May 8th • Doors 6pm • Show 7pm
10' x 10' Safe Space Square (includes four adult admission tickets)
With over 350 shows performed since their inception in 2014, Runaway Gin is the World's Ultimate Phish Tribute Band. They have also been voted the Best Phish Tribute in the World two years in a row. On July 4th, 2015, after the second show of the Grateful Dead GD50 run, Runaway Gin sold out the Hard Rock Cafe in Chicago and catapulting them from a Southeastern regional act onto the National scene.
The members of Runaway Gin are long time Phish fans who have united with the goal of creating musical moments inspired by Phish. The band's song list is constantly growing and their improvisational and communication skills are constantly developing independently and together. Like Phish, Runaway Gin will never play the same show or jam the same way twice making every show a unique experience and every moment pure artistic creation.
Safe Sounds at Firefly Music Series powered by REV Federal Credit Union & Ear For Music presents

The High Divers


with She Returns From War
Saturday, May 15th • Doors 6pm • Show 7pm
10' x 10' Safe Space Square (includes four adult admission tickets)
The High Divers' touring has grinded to a painful halt as the resurgence of Covid-19 threatens the health and peace of mind of concert goers. "We have no idea when we'll be able to tour again" says keyboardist and vocalist, Mary Alice Mitchell, "And this was going to be a great year for us". This October marks six years as a touring band, and the group has the songs, stories and scars to prove it.

Formed in 2014, The High Divers hit the ground running playing shows regionally around South Carolina, recording their debut album, "Riverlust", and building a fan base that quickly fell in love with their raucous live shows. The follow up album, Chicora, was released to much critical acclaim and found itself seated on many "Best Of" lists. Perhaps the band's most well known work was 2019's "Ride With You" EP produced by Jason Isbell guitarist, Sadler Vaden, who is credited with "Getting the band out of it's comfort zone, and into some close to the vest songwriting", according to bassist and singer, Kevin Early.

It's not just the sound that shifted with Vaden's guidance. He also helped make the song selections for this EP, and opted for the ones that Luke and Mary Alice were a little more uncomfortable with sharing. That's how they knew they were the right picks. The lyrics stray from carefree, frolicking 2015 hit "Summertime" and 2017′s shimmery, butterfly-inducing "Fall In Love So Fast" into some somber subject matter. The disc touches on suicide, bullying, abuse, depression and PTSD. "If you don't do something that really scares you, you're not going to grow," says Mary Alice, who sings "Our Love is a Fire," which is about an abusive relationship she was in for four years as a young teenager.

While it's unclear what the future of touring looks like, and how the music business as a whole will weather the storm that is Coronavirus, one thing remains certain; The High Divers have a lot more to say, and are hell-bent on adapting to whatever the post-Covid world throws at them.
Safe Sounds at Firefly Music Series powered by REV Federal Credit Union & Ear For Music presents

Jimmie Allen
Thursday, May 20th • Doors 6pm • Show 7pm
10' x 10' Safe Space Square (includes four adult admission tickets)
Signed to BBR Music Group's Stoney Creek Records, platinum-selling recording artist and songwriter Jimmie Allen has already made history as the first Black artist to launch a career with two consecutive No. 1 hits on country radio – the first being his debut single "Best Shot" – which claimed the No. 1 spot for three weeks – and second being his latest single "Make Me Want To" off his debut album Mercury Lane, released fall 2018.
Named in tribute to the street he grew up on and the origin of his incredible journey, Mercury Lane features a cutting-edge mix of country, rock, R&B and pop that draws upon the influence of his family and small-town upbringing of the critically acclaimed rising star. Rolling Stone raved Allen's debut "challenges the narrowly defined model of what constitutes a next big thing in country music in 2018" and The New York Times dubbed it one of 2018's strongest, calling it "a conventional country album, filled with songs about the small details."
His latest project Bettie James, released in July 2020, is a star-studded collaboration EP featuring Brad Paisley, Charley Pride, Darius Rucker, Mickey Guyton, Nelly, Cyrus, The Oak Ridge Boys, Rita Wilson, Tauren Wells & Tim McGraw. Wanting to weave his late father and late grandmother's legacies into his music, Allen named the project after them, with each featured artist on the project having touched their respective lives through their own music. The result is a musical composition of love, heartbreak, perseverance, hope and faith. Bettie James has garnered 110+ million streams since release, along with critical acclaim for the music, the historic nature of various collaborations, and its subsequent place in country music history. NPR calls the project an "announcement of [Allen's] arrival" and a "huge step for country" while Billboard hails it "a powerful statement from a developing voice." Rolling Stone describes "Why Things Happen" – which brings together three generations of Black country artists in Allen, Darius Rucker and Charley Pride – as "part polemic, part proclamation, and part prayer… opening up space for the artists to bear witness."
Allen was most recently nominated for New Artist of the Year at the 54th Annual CMA Awards – his first ever CMA nomination. On July 13, 2021, Allen will publish his debut picture book, My Voice Is a Trumpet, with Flamingo Books, an imprint of Penguin Young Readers. Illustrated by veteran illustrator Cathy Ann Johnson, the book is a powerful story about speaking up for what you believe in, at any age.
Safe Sounds at Firefly Music Series powered by REV Federal Credit Union & Ear For Music presents

The Reckoning
Saturday, May 22nd • Doors 6pm • Show 7pm
10' x 10' Safe Space Square (includes four adult admission tickets)
Based in beautiful Charleston South Carolina, The Reckoning offers a fresh new approach to the seemingly infinite library of songs and soundscapes that can only be defined as "Grateful Dead." Celebrating the band's entire catalogue of material as it developed and danced through the decades, The Reckoning leaves no leaf unturned, and the music never stops!
Saturday, May 29th • Doors at 6pm • Show 7pm
10' x 10' Safe Space Square (includes four adult admission tickets)
Charleston, SC based musicians resurrecting the Allman Brothers' music to new fans.
Safe Sounds at Firefly Music Series powered by REV Federal Credit Union & Ear For Music presents

Motown Throwdown
Saturday, June 5th • Doors 6pm • Show 7pm
10' x 10' Safe Space Square (includes four adult admission tickets)
Motown Throwdown is a powerhouse soul band steeped in the traditions of funk, soul, pop, rock, R&B, and jazz. As the name implies, the music starts within the Motown soul tradition, but manifests itself in a plethora of unique styles and arrangements from across the musical spectrum. Expect an enormously energetic performance with ripping solos, soulful vocals, and catchy, synchronized melodies on top of a thick, relentless funk driven core. Also, expect to dance and be wildly entertained.
Saturday, June 12th • Doors 6pm • Show 7pm
10' x 10' Safe Space Square (includes four adult admission tickets)
Night Moves | Taylor Hicks performing Bob Seger's Classic Hits
For Taylor Hicks, winning "American Idol's" blockbuster fifth season was just the beginning. Hailed as "part Stax, part Motown and part honky-tonk" by The New York Times, Hicks' intoxicating blend of soul, blues, country, and rock & roll quickly rendered him a household name as he progressed to the show's record-breaking finale in 2006, an historic television event which drew an audience of more than 200 million viewers.
Hicks immediately followed his Idol victory with a #1 Billboard single and an RIAA certified Platinum debut, and soon went on to make history as both the first male Idol champion featured on a GRAMMY-winning record (Jimmy Fallon's 'Blow Your Pants Off'), and the first to land a prestigious Las Vegas residency.
A versatile artist, actor and advocate, Hicks has since ventured into theater and television, touring as Teen Angel in the popular Broadway musical "Grease" in addition to appearing on "Law & Order: SVU" and hosting the INSP series "State Plate," which won the Cynopsis TV Award for Best Reality Series (Travel). After a lengthy hiatus from recording, Hicks returned in 2017 with "Six Strings and Diamond Rings," the first single since his beloved 2009 sophomore album, "The Distance." The stirring, stripped-down track offers up a tantalizing preview of Hicks' highly anticipated third album, a deeply personal, roots-inspired collection recorded at Zac Brown's Southern Ground studio in Nashville with contributions from four-time GRAMMY®-winning musician Keb' Mo as well as Robert Randolph.
Safe Sounds at Firefly Music Series powered by REV Federal Credit Union & Ear For Music presents

Elise Testone & BlackNoyze


w/ Special Guest Brandon "Taz" Niederauer
Saturday, June 19th • Doors 6pm • Show 7pm
10' x 10' Safe Space Square (includes four adult admission tickets)
ELISE TESTONE
"A powerhouse vocalist whose incredible stage presence and vocal maturity rank with the best, Elise Testone is the perfect combination of soul, rock, attitude and restraint. Equally as impressive and at ease belting James Brown style vocals over a relentless funk groove as she is resting her voice gently over a ballad, Testone's range of influences and vocal capacity know few limits. Her first original album, In This Life, released last year received rave reviews, celebrating her ability to "wail the blues, rock like a bitch and purr sexily" (Goldmine Magazine), however Elise is anxious to share her new music which is more focused in the Funk/Rock/Soul genres. Growing up in New Jersey with a father who collected juke boxes, Testone knew she was a singer even as a young girl. Exposed to music that ranged from Motown and the Beatles to Queen and, later, Nirvana and Erykah Badu, she began studying privately at the age of 5, excelling and performing publicly at local coffeehouses through her teens. Eventually graduating from Coastal Carolina University with a Vocal Performance degree, Testone came of age as a professional performer and private educator in Charleston, SC, becoming one of the most seasoned and well respected musicians in town. At the age of 27 she was approached by a scout from television reality show American Idol and decided to use the opportunity (urged on especially by her students) as a stepping stone to propel her career, ultimately becoming top six finalist on the hit show in 2012.

In the wake of her appearance on American Idol, Testone has toured extensively and has appeared on such popular TV programs as The Tonight Show with Jay Leno, The Ellen DeGeneres Show, Live with Kelly, Access Hollywood, Good Day New York, Good Morning America and others. While she enjoyed her time on Idol, Testone is excited to bring her own unique brand of music to the world, a brand that owes more to artists like Ella Fitzgerald, Led Zeppelin, Janis Joplin, James Brown and Amy Winehouse than to today's disposable hit-makers. She has opened for B.B. King, Taj Mahal, Snoop Dogg, Sister Sparrow and The Dirty Birds, and Dumpstaphunk, and has performed with Stevie Nicks, Bernie Worrell, Bernard Purdie, Stanton Moore, Skerik, Pink Talking Fish, Robert Randolph and the Family Band, The James Brown Band, Brandon "Taz" Neiderauer, and Ghost Note; and members of Queen, The Meters, Lynyrd Skynyrd, The Greyboy Allstars, Ms. Lauryn Hill, Living Colour, Trey Anastasio Band, Tedeschi Trucks Band, P-Funk, Galactic, Van Halen, Turquaz, D'Angelo, Pete Rock, Cory Henry and the Funk Apostles, Snarky Puppy, Soulive and Lettuce, to name a few.

In 2015, Testone had begun this new chapter of her career by living in Brooklyn, NY while wrapping up her sophomore album with Producer Jesse Fischer, which features drummer Daru Jones, drummer Robert ""Sput"" Searight, bassist Mono Neon, guitarist Brandon ""Taz"" Niederauer, guitarist Jordan Peters and more. She is constantly creating and recording new music, performing at Music Festivals such as New Orleans Jazz and Heritage Festival, Peach, Chesapeake Bay Blues Fest, Harvest Festival in Canada and more, and venues such as The Cutting Room, The Blue Note, Rockwood Music Hall, Irving Plaza, NuBlu, Highline Ballroom, and Brooklyn Bowl, and many more.

In a world full of vocalists who seem to be acting, Elise Testone's performance is anything but that. Her heart more exposed with every note, it's not uncommon to find her on her knees and out of breath at the end of a hard-driving soul tune – all in service of the music."
BRANDON "TAZ" NIEDERAUER
Seventeen-year-old Brandon Niederauer, nicknamed "Taz" for his ferocious guitar playing, is living proof that dreams really do come true. Having performed in some of the most legendary venues in America with many of the most prominent musicians of our time, the young guitarist, singer, and songwriter has already earned himself quite the reputation.

It all started at eight years old, when Brandon watched the movie School of Rock. Already inspired by his father's record collection, Brandon instantly realized he was destined to play guitar. From that moment on, his guitar rarely left his hands. Just four years later, Brandon was cast in the principal role of guitarist "Zack Mooneyham" in the Tony Award-nominated Andrew Lloyd Webber Broadway production, School of Rock the Musical.

Based in New York City, Brandon has had the opportunity to play with many of his musical idols. In recent years, he's shared the stage with multiple members of the Allman Brothers Band, including Gregg Allman, Derek Trucks, Warren Haynes, Butch Trucks, and Oteil Burbridge, as well as a variety of other notable musicians, including Buddy Guy, Stevie Nicks, Lady Gaga, Slash, Jon Batiste, Dweezil Zappa, Eric Gales, George Clinton & Parliament Funkadelic, Dr. John, Gary Clark Jr., Col. Bruce Hampton, Eric Krasno, George Porter Jr., Robert Randolph, Karl Denson, Doug Wimbish, and John Popper. He has also performed with Tedeschi Trucks Band, The String Cheese Incident, Umphrey's McGee, The Revivalists, Dumpstaphunk, Blackberry Smoke, Galactic, and countless other bands.

Since making his national television debut on The Ellen DeGeneres Show at just ten years old, Brandon has appeared on The Late Show with Stephen Colbert, Good Morning America, and The View.

In 2018, Brandon reunited with Andrew Lloyd Webber, performing in January with Sarah Brightman at The Phantom of the Opera's 30th Anniversary celebration, and in April alongside Sara Bareilles, Alice Cooper, and John Legend in NBC's live broadcast production of Jesus Christ Superstar. Brandon is currently featured in Spike Lee's Netflix series, She's Gotta Have It, and performs concerts for audiences across the country and around the world.
BLACKNOYZE
BlackNoyze, (also known as BLKNZ), is an original music ensemble, a production team and Touring Band for individual artists. A musical chimera first, and most obviously- an original music ensemble.
Safe Sounds at Firefly Music Series powered by REV Federal Credit Union & Ear For Music presents

The Midnight City
Saturday, June 26th • Doors 6pm • Show 7pm
10' x 10' Safe Space Square (includes four adult admission tickets)
The Midnight City is an Alternative pop rock band that has been moonlighting as a cover/party band for over 9 years in Charleston SC. With 3 lead singers they cover any style of music there is! They play the hits and sprinkle in originals here and there.