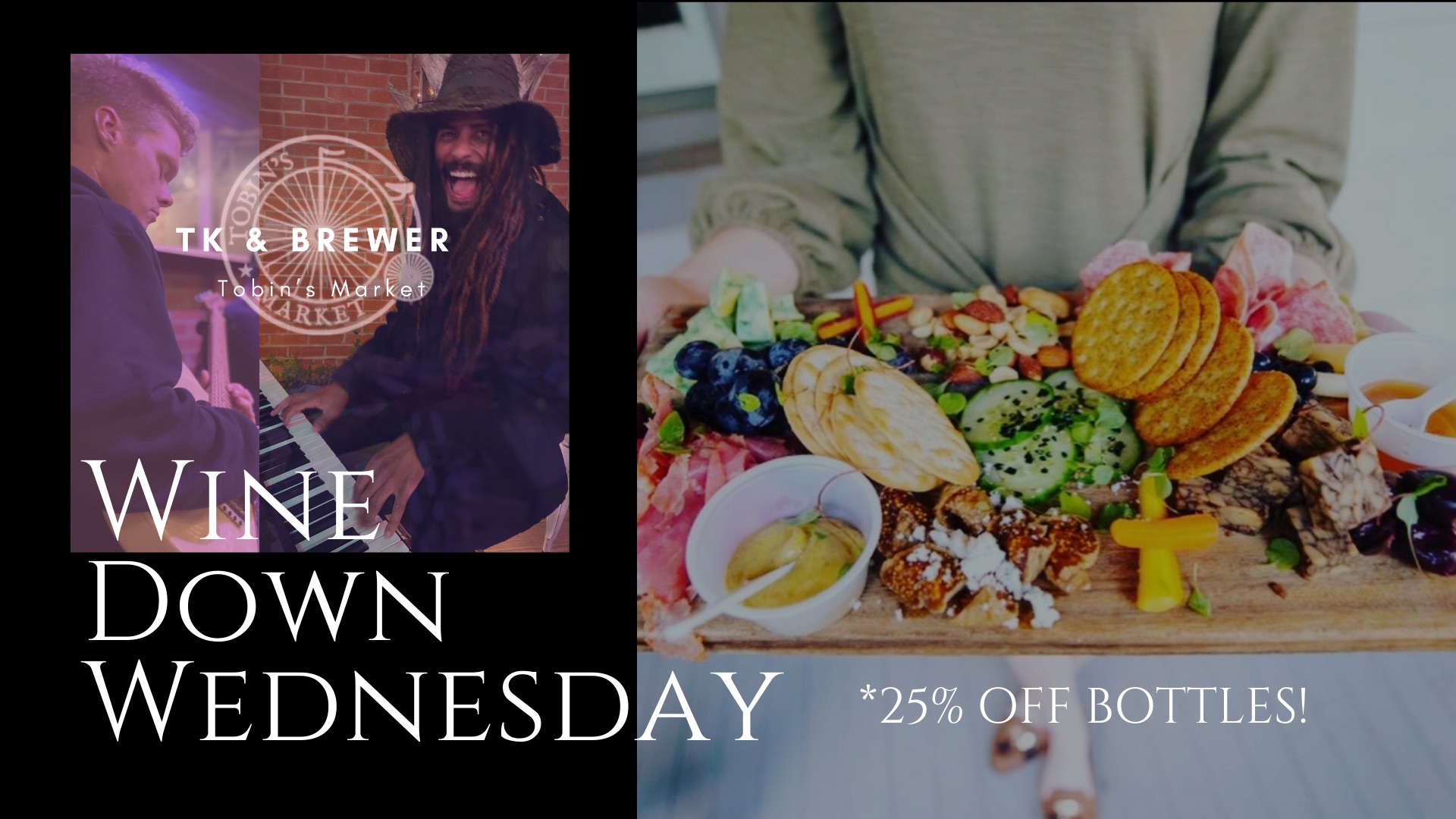 Wine Down Wednesday w/ TK & Nick Brewer
WED | JAN 13 | 5PM DOORS | 7PM SHOW | $5 ENTRY 25% OFF WINE
25% off Wine Bottles
Charcuterie Boards,
Burgers & Tacos
Tonight's duo is fronted by Charleston guitarist and composer Thomas Kenney, who performs regularly with synth rock act Doom Flamingo, as well as several other local bands as a hired gun. Putting together some of the best musicians in Charleston, the trio has a sound that is heavily influenced by funk soul, gospel and R&B. This particular night, TK will be accompanied by the majestic Nick Brewer, one of Charleston's most well known pianists.
Nick Brewer is a multi-instrumentalist with 20 plus years of experience. He took piano lessons at an early age and quickly excelled. Though he was classically trained, he gravitated more towards jazz. To further his studies, Brewer attended The Berklee College of Music where he studied Composition, piano, and guitar.
Nick Brewer has played with many different types of projects over the years. He has played piano in The Skipp Pearson Jazz Quartet and The Robert Gardener Quartet based out of South Carolina. He has written and recorded two albums and toured the States as the lead guitarist for prog-rock band The Memorials, led by Grammy award drummer Thomas Pridgen. Brewer was also a featured pianist for country rock group John Wesley Satterfield and His Damn Fine Band and Nashville natives, Good Company. By The Bull is a progressive alternative rock trio that found Brewer as the front man singing and writing. He has also released three records and toured with By The Bull. Nick Brewer also played keyboards on three records with the alternative rock/soul group The Reggie Sullivan Band.
Brewer is also proudly endorsed by PRS Guitars and D'addario Guitar Strings.
Tobin's Market is extremely excited to have this amazing group of musicians play in our cozy courtyard. Don't miss this downtown Wine Down Wednesday with a few of our favorite artists and the best priced wine by the bottle in the city.
#seeyouattobins $5 entry ⎮ Show 7pm