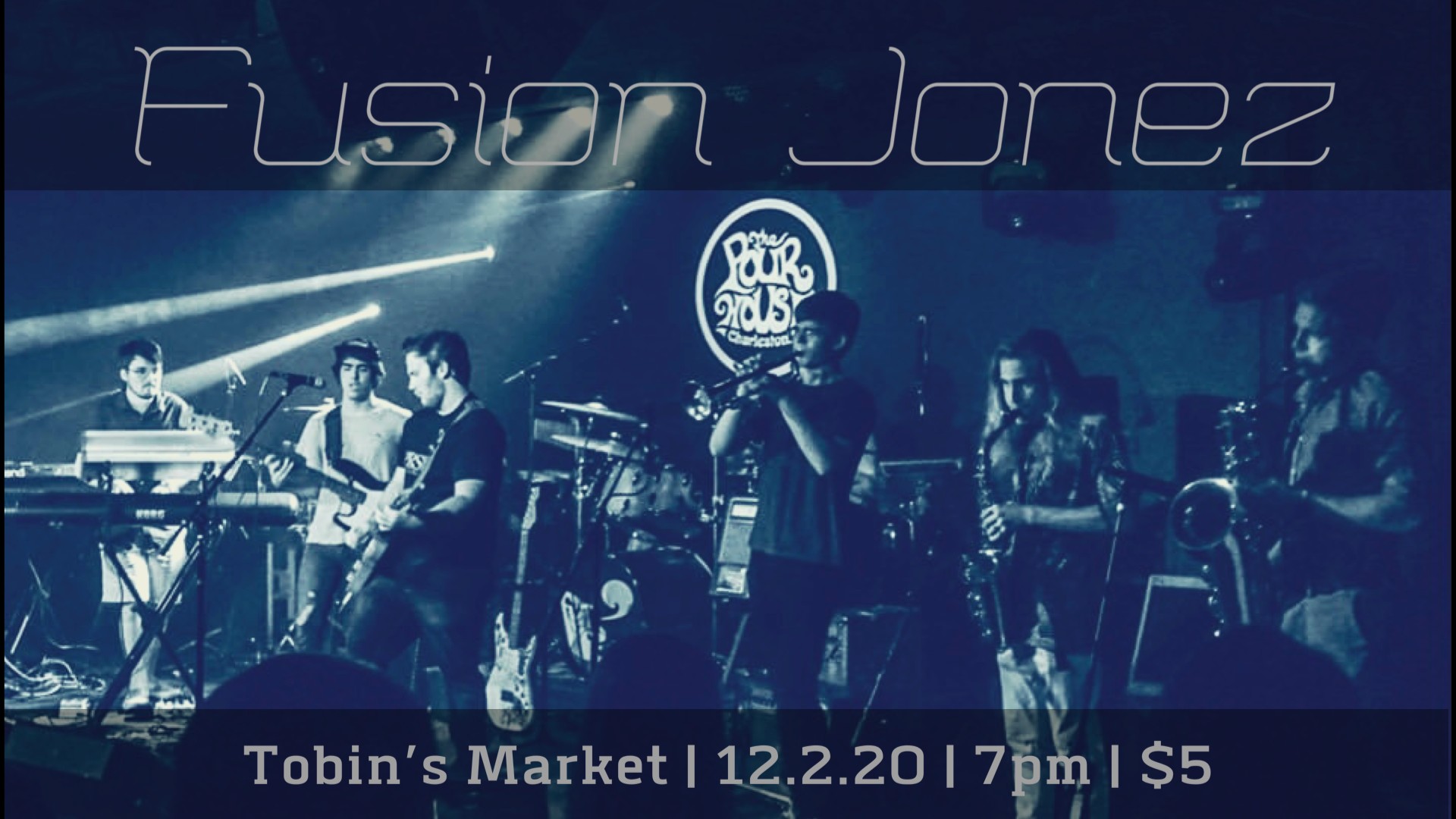 Wine Down Wednesday w/ Fusion Jonez
Doors 6pm ⎮ Show 7pm ⎮ $5 entry
(100% of tickets sales are donated to support live music)
25% of select bottles of wine!
Tobin's Raw Bar & Grill Specials
Live music with Fusion Jonez!
Fusion Jonez is a jazz/funk fusion band from Charleston, South Carolina. The band was formed in 2017 by a group of well-rounded, talented individuals who have a common dream, musical success. The members of the band; Asher DiBernardo (Drums), Jeremy Holenko (Bass Guitar), McCormick Emge (Keys), Walker King (Guitar), Jalin Williams (Tenor Sax), Matthew Masse (Bari Sax), Davis Ginn (Trumpet), and Aubrey Rogers (vocals), are all relatively young, but possess the skills and prowess to hang with those many times their age. Fusion Jonez has driven for success and pushed to establish themselves in the local area. Named the Charleston City Paper's Best Up-and-Coming Band for 2017 and the 2018 Jazz Artist of the Year, their goal is to build their recognition and following with hopes of one day expanding their reach and pushing the boundaries of music. The group's first album, Sleight of Hand, was released in January of 2018. Their second record, Around Town (Live), was released in February of 2019.
The beats and rhythms of drummer Asher DiBernardo lay the funky foundation of the group's many tracks, driving their music into your core. The riffs and guitar skills of Walker King are deep, and the hard bass strings by Jeremy Holenko provide the backbone and undercurrent to many of the group songs. McCormick Emge's work on keyboards tingle the spine and move the soul. The colorful horns of Jalin Williams, Matthew Masse, and Davis Ginn provide the jazzy tones that help to set the band on fire. Collectively, they form a sound inspired by the old and pushed by the new. It's a funk to be reckoned with!
The passion and soul of their music comes through in their performances, bringing entertainment to fans and newcomers alike. They have a hot, fresh vibe that puts jazz and funk in its place: the ears of the people.
#Seeyouattobins