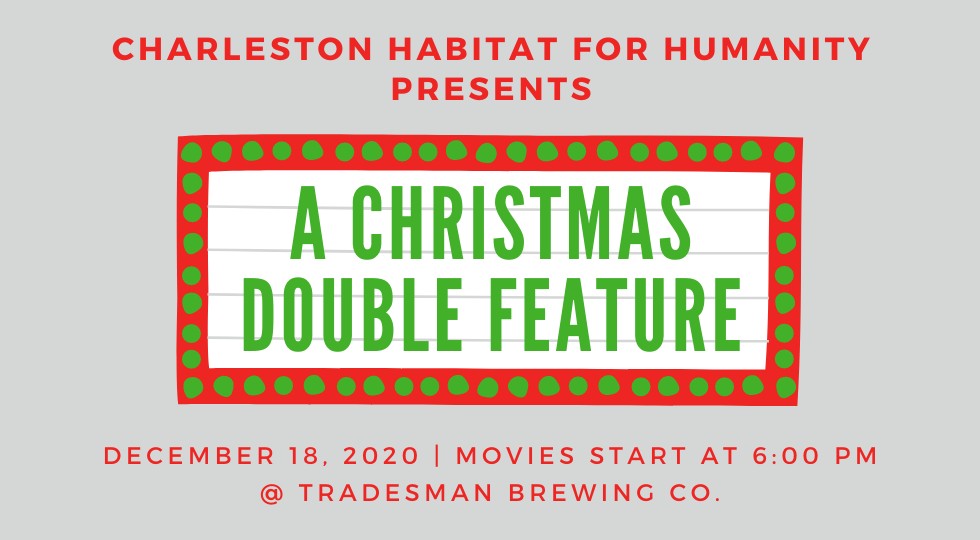 Charleston Habitat for Humanity Christmas Double Feature Drive In
Charleston Habitat for Humanity presents a Christmas Double Feature with the beloved films The Polar Express and Elf. Friday December 18th at Tradesmen Brewing Co. Join us for some safe, family fun and get in the holiday spirit! All proceeds benefit Charleston Habitat for Humanity.
Santa will be visiting from the North Pole, along with his friends from the Charleston Fire Department! Gates will open at 4pm for live music by local saxophonist Andy Masker, Foxes Fried food truck, a holiday market, and concessions favorites! Beer will be available for purchase from Tradesman Brewing Co. Get in some last minute holiday shopping with local vendors, including: Francis + Benedict, Gypsy Castaway, Lewks Boutique, Lion's Tooth Apothecary, and Mission Essentials.
Sponsorships and vendor opportunities are available! Contact Kristen Williams for more information - (843) 203-4025 or Kristen@charlestonhabitat.org.
Event Details:
Tickets are $60 Per Car Load (up to 6 people per vehicle).
All tickets must be purchased online.
Beer, food and concessions can be purchased at the event.
Gates open at 4PM - Enjoy a holiday market, live music and food trucks!
When you arrive, an attendant will scan your ticket through your car window and direct you to your parking space.
Cars will be parked ONE AT A TIME.
SUVs, trucks, and other large vehicles will be directed to the back, while smaller cars will be closer to the screen.
The sound from the movie is transmitted to your vehicle's FM radio.
Sorry, no refills on popcorn or drinks. Concessions will close at 9PM.
Rules & Restrictions:
Maximum of 6 people per vehicle.
Masks are required for attendees when outside of your vehicle. We encourage everyone to practice safe social distancing of 6 feet from others not in your group.
Restrooms are available inside the building.
Shows will play rain or (moon)shine. NO refunds will be given for any tickets or purchased items.
Children must be supervised at all times during the event.
Pets are not allowed.
Weapons are not permitted at this event (concealed or otherwise).
You must remain in control of your vehicle's headlights and they must remain OFF at all times. If your vehicle's lights do not turn off, you will be required to cover them with black construction paper.
You must arrive and be parked before the show begins. No late admissions.
COVID Guidelines: By attending this event, you acknowledge the risk of becoming exposed to or infected by COVID-19, as well as any risk inherent with being in a public place. You voluntarily agree to assume all the foregoing risks and accept sole responsibility for any exposure. Please stay home if you are at high risk, sick, or if you have knowingly been exposed to COVID-19 in the last 14 days.
Event security staff reserve the right to remove anyone from the property who is not abiding by the guidelines as outlined here.