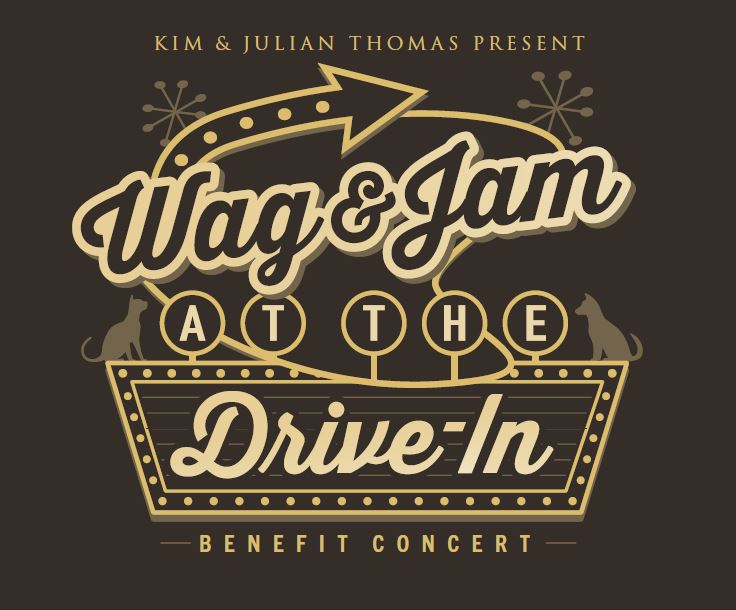 Kim & Julian Thomas present
Wag&Jam at the Drive In
Wag&Jam at the Drive In
Presented by Kim & Julian Thomas
Live Music by:
Clay Page
Fred Engler Band
Brad Dixon & The Concept
November 12, 2020 • Doors 5pm • Show 6:30pm
at 25 Drive In Auto Theatre
· No Coolers or Outside Food & Drink
· No Pets
· Each 10' x 10' Ticket includes concert admission for up to six adults
· Each Picnic Ticket includes concert admission for up to four adults
· Each Two Top Ticket includes concert admission for up to two adults
Wag&Jam at the Drive in presented by Kim & Julian Thomas is an outdoor concert fundraising event that will bring the community together in a safe place to listen to live local music performances to raise money for the Humane Society of Greenwood. On this inaugural Wag&Jam, enjoy a live concert at the historic 25 Drive in. Up to eight guests can enjoy live music in 10x10 spaces that allow for safe social distancing.
Sponsored by Lonza, each concert will feature live music performances, Good Times beers, and the 25 Drive In's delicious menu items.
GENERAL STATEMENT
The safety and health of the community and our staff & volunteers are of the utmost importance to the Humane Society of Greenwood & the 25 Drive In. The precautions and event policies identified below represent the efforts being made by all involved to keep our community safe when attending this event. Humane Society of Greenwood and 25 Drive In will continue to follow the guidance of national, state, and local agencies.
By attending this event, you acknowledge the risk of becoming exposed to or infected by COVID-19. You voluntarily agree to assume all the foregoing risks and accept sole responsibility for any exposure.
1. GENERAL PRECAUTIONS
1. Please stay home if you are at high risk, sick, or if you have knowingly been exposed to Covid-19 in the last 14 days.
2. Wash your hands often and use sanitizer.
3. Humane Society of Greenwood & 25 Drive In reserve the right to remove anyone from the property who is not abiding by the guidelines as outlined here.
2. SOCIALLY DISTANT SEATING
1. We have created 3 options of safe spaces at the 25 Drive In during this live music events to help provide guests with an area to spread out safely. Please observe the capacity limitations outlined in your designated ticket to ensure the safety of you and all other participants at the event.
2. All tables and benches at the 25 Drive In have been placed a minimum of 8 feet apart.
3. We ask that all guests respect the social distance space of others and maintain a 6-foot distance from people who are not in your party.
3. EVENT EXPERIENCE
1. Event guests are encouraged to bring chairs and blankets to make their 10x10-foot space more comfortable.
2. Please do not bring coolers, tents, or outside food or drink.
3. Please leave pets at home.
4. STAFFING POLICIES
1. All staff and volunteers serving a consumable product to guests are required to wear a protective mask.
2. Staff and volunteers will be trained and educated on best practices as provided by the CDC, as well as state and local agencies.