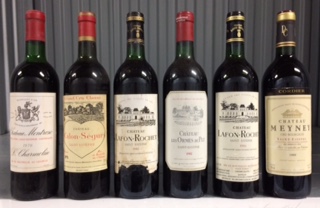 Fine/Rare/Old Bordeaux Vertical 1970-1989 Tasting Event
Wed, Dec 11, 2019 at 6:45pm
Fine & Rare Bordeaux Vertical Tasting (limited to 8 guests)
Focusing on the Appellation of St.-Estephe.
1970 Montrose, 1978 Calon Segur, 1982 Lafon Rochet,
1982 Les Ormes de Pez, 1988 Lafon Rochet, 1989 Meyney.
Champagne reception @ 6:45pm with event beginning promptly @ 7:00pm.
All wines sourced from an old Midwest US & deep British cellars.
Hosted by an International rare wine expert of 25 years.
We will be drinking Art & History!