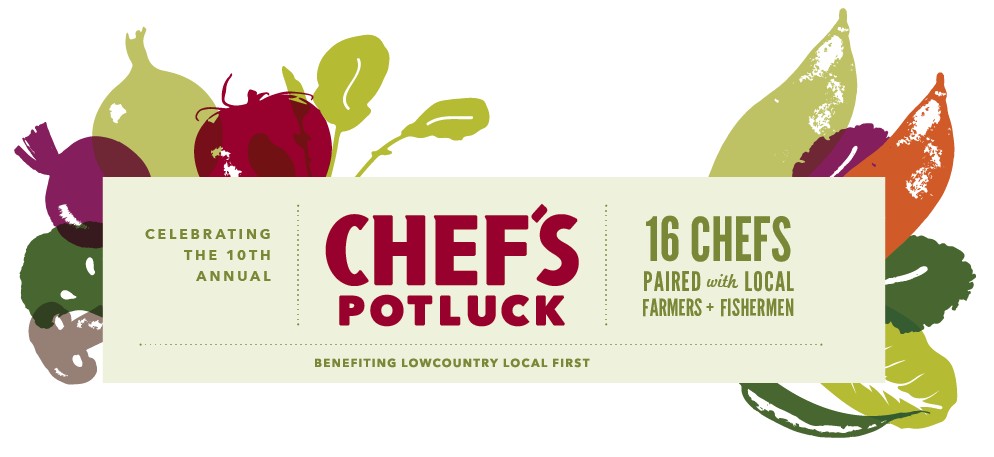 2017 Chef's Potluck
Sun, Apr 30 from 4pm - 7pm
Kids (12 years old and under)
One of the most popular fundraising events of the year, the 10th Annual Chef's Potluck takes place at beautiful Middleton Place. More than a dozen participating local chefs will be paired with local farmers, fishermen and ranchers to bring attendees the freshest, local ingredients the Lowcountry has to offer!
Tickets are all inclusive. Enjoy live music, local libations and tastings from each chef, a stellar silent auction, and some of the most beautiful views at America's oldest landscaped gardens at Middleton Place.
Help us celebrate our first DECADE of loving local by contributing an additional $10 to your event purchase. In 2017, Lowcountry Local First will be celebrating a decade of creating a vibrant local economy that celebrates the unique nature of the place we call home. As we reach this milestone as an organization, we pause to recognize that it would not be possible without the support of you - our good neighbors. Your ticket purchase and additional donation are invaluable to the expansion of our message and advocacy efforts moving forward into the next decade. We ask that you consider this additional support in honor of our 10 years serving the community.

2017 Chef's Potluck restaurants to be announced!
2016 Chef's Potluck restaurants included:
Caviar & Bananas
CRU Cafe and Catering
Cypress / Artisan Meat Share
Edmund's Oast
EVO Pizzeria
FIG / The Ordinary
The Drawing Room
The Glass Onion
The Grocery
High Cotton
The Macintosh / Oak Steak House
Middleton Place Restaurant
Monza / Closed for Business
Poogan's Porch
Ted's Butcherblock
Two Boroughs Larder
2017 Chef's Potluck farmers and purveyors to be announced!
2016 farmers and purveyors included:
Abundant Seafood
Altman Ranch
Bull's Bay Saltworks
Charleston Artisan Cheesehouse
Clammer Dave
Compost in My Shoe
Cordray Farms
Darling Farm
Geechie Boy Mill
Green Grocer
Gruber Farm
Hickory Bluff Berry Farm
Holy City Farms
Jeremiah Farm & Goat Dairy
Joseph Fields Farm
Keegan-Filion Farm
Limehouse Produce
Lowcountry Creamery
Lowland Farms
Middleton Place Organic Farm
Murray Heirlooms
Olinda Olives and Olive Oil
Rooting Down Farms
Rosebank Farms
Spade and Clover Gardens
St. Jude Farms
Sweetbay Produce and Nursery
Wildhaven Farm
Wishbone Heritage Farms
The 2017 Eat Local Month is by Limehouse Produce, and sponsored by Steen Enterprises, the Drawing Room, the Glass Onion, La Tela Pizzeria, Roper St. Francis, Charleston City Paper, Charleston Magazine, Edible Charleston, CVB, Middleton Place, Grassroots Wine, Sperry Tents, and Nelson Printing.
Proceeds from this event benefit Lowcountry Local First's "Growing New Farmers" Program. Since 2011 we have trained over 130 new farmers and food systems leaders in the Lowcountry and look forward to growing our resilient local food system with you.
This event is rain or shine and tickets are non-refundable.
For more information, visit LowcountryLocalFirst.org.