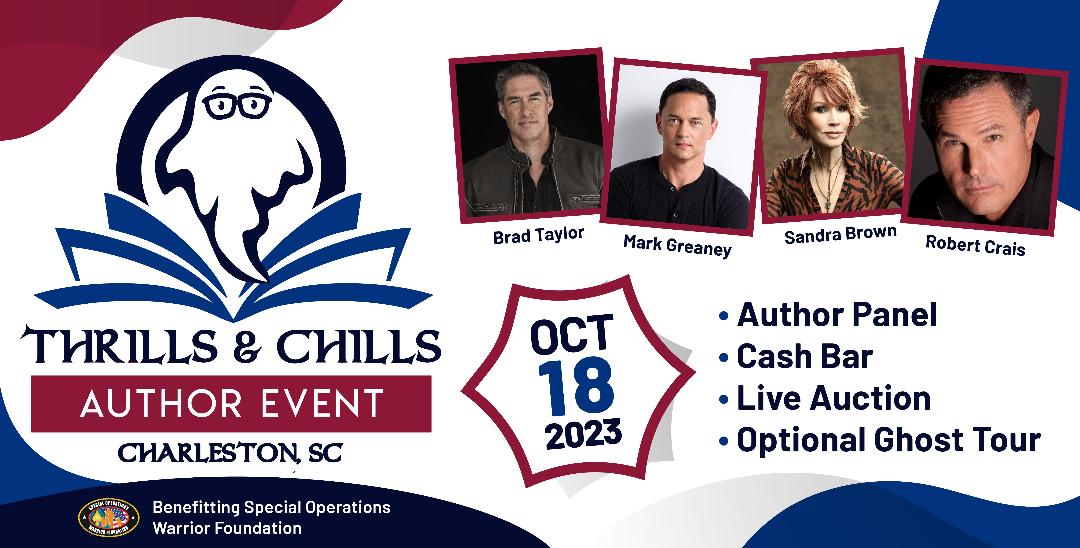 THRILLS & CHILLS


featuring New York Times bestselling authors, Sandra Brown, Robert Crais, Mark Greaney and Brad Taylor!
Cash Bar
New York Times Bestselling Author Panel
Book Signing
Optional Ghost Tour Add-on
Join us at Halls Signature Events on October 18, 2023, for an evening of Thrills & Chills benefiting Special Operations Warrior Foundation. This is an exclusive event featuring not one but four stellar New York Times bestselling authors—Sandra Brown, Robert Crais, Mark Greaney and Brad Taylor. We are excited to bring such an amazing group of thriller writers together in Charleston for what's sure to be a lively and one-of-a-kind discussion.
Buxton Books will be selling books and the authors will do a book signing following the panel. In addition to Thrills, get some Chills with an optional, add-on ghost tour following the event. The Ghost Tour will leave from the venue for a one-hour walking tour around historic Charleston.
The schedule for the event is as follows:
VIP Meet & Greet | 6:00 pm VIP ticket holders will have the opportunity to personally meet and interact with the authors. VIP tickets include a signed book, cocktails, appetizers, and premiere seating for the panel discussion.
Doors Open for General Admission | 6:30 pm
Author Panel | 7:00 pm Author Panel Author Panel with all four authors and a moderator.
Live Auction | 8:15 pm
Book Signing | 8:45 pm Authors will be available to sign books
Ghost Tour | 9:00 pm Attendees who added-on the Ghost Tour to their ticket purchase leave for an hour-long stroll through the historic district of Charleston with expert tour guides who are also amazing storytellers. You are in for a treat!
Don't miss out on this thrilling event! It's sure to be an evening filled with fascinating authors, a live auction, topped off with an optional ghost tour for those seeking an extra dose of mystery.
Sponsorships are available for this event. If you're interesting in sponsoring Thrills & Chills and supporting Special Operations Warrior Foundation, click here: http://www.specialops.org/thrillsandchills.
---
All proceeds from this event benefit Special Operations Warrior Foundation. The Special Operations Warrior Foundation's enduring promise to America's Army, Navy, Air Force, and Marine Corps Special Operations Personnel is to honor the fallen, and all Medal of Honor Recipients, by providing full educations and additional opportunities, "cradle to career" (preschool – college), to their children, ensuring:

(1) Comprehensive educational support including, but not limited to, academic advocacy, preschool and private school grants, tutoring, support for students with disabilities, college readiness programs, full financial assistance for up to a four-year post-secondary degree, access to our college to career transitions program, a commitment to cover educational costs for the surviving children of Special Operations Personnel whose spouses perish while the Special Operator is actively serving, while providing a variety of other practical programs and services.

(2) Provide immediate financial grants to severely combat-wounded, ill, and injured Special Operations Personnel who require hospitalization.