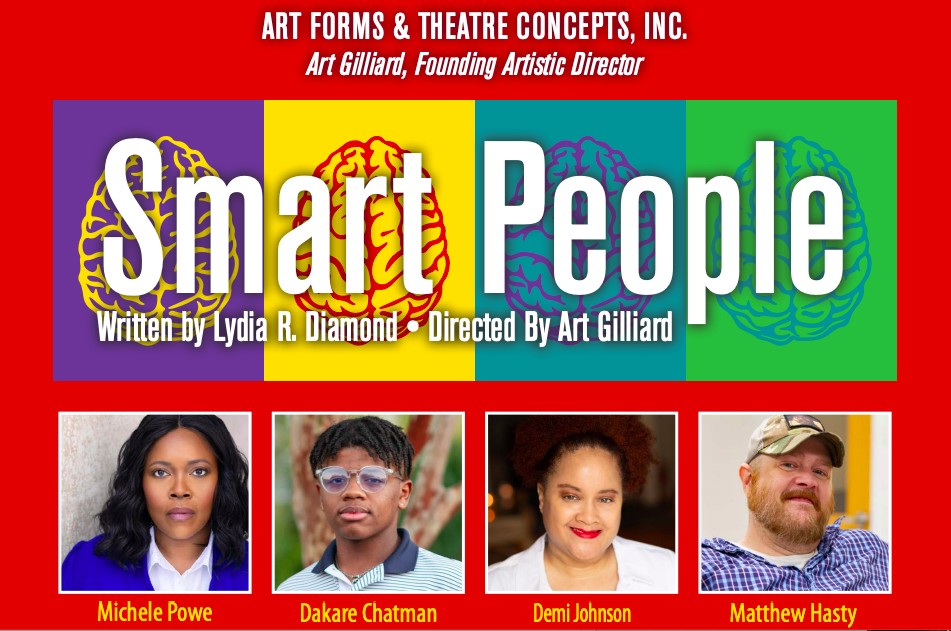 Art Forms & Theatre Concepts present
Smart People


Written by Lydia R. Diamond • Directed by Art Gilliard
Thursday, February 16th - Sunday, February 26th
This dramatic comedy by the award-winning playwright Lydia R. Diamond tells a delicious and heartrending story. On the eve of Barack Obama's 2008 Presidential Election, four hyper-intelligent Cambridge residents find that despite their best intentions upon broaching the subject the topic of race is a treacherous one, full of stumbles and wrong turns. Brian, a neuroscientist, is studying the brain's responses to race and its societal implications. Ginny, a psychiatrist, is studying low-income Asian-American women's reaction to stress. Jackson, a young doctor, has opened a clinic for low-income patients.
Valerie, a talented actor, is struggling to make ends meet by working as a house cleaner. Through bright, funny dialogue and fast-paced vignettes, playwright Lydia Diamond brings her quartet of complicated characters to vibrant life. As they each bull-headedly pursue their professional and personal goals, they find that issues of self-awareness, identity, and race are obstacles that even "smart people" can't seem to avoid.
Art Forms & Theatre Concepts, Inc. is supported in part by a major grant
from the City of Charleston. Additional support is provided by the South
Carolina Arts Commission, which receives funding from the National
Endowment for the Arts, and supporters like you. Thank You!